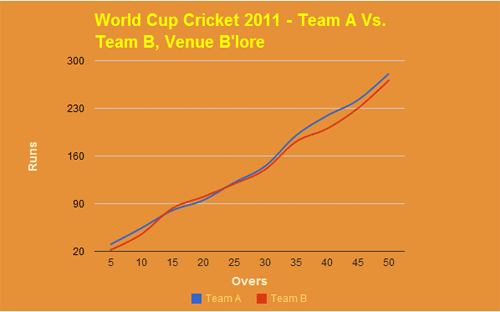 Learn how to create a chart or line graph in Google Doc Spreadsheet. It's so simple that any one without any prior knowledge can create useful charts online that within few minutes.
Google Doc is getting more and more user friendly after its Google Drive integration and Offline access. The virtue of the integration (it's by default integrated with Google Drive) is that a Google Doc user can now store unlimited doc files in Google Drive and effectively manage it along with his other cloud stored files. 5 GB storage space is only free with Google Drive and that is enough for many users of cloud storage. Online collaboration when needed and offline access are the two important features of Google Docs.
With supporting apps Google Drive is seamlessly accessible from anywhere, any time. I've already detailed how to make Google Docs offline in an article earlier today. Read it here. So the popularity of Google Doc is increasing and we forecast a tremendous growth in the use of cloud office suites in the near future. So we are starting a separate category on this site particularly for Google Docs and kicking off with our first Google Doc tutorial that about creating a line chart or line graph in Google Doc Spreadsheet.
Statistical graphs have many advantages. On Google Spreadsheet you can create different types of graphs including Line, Area, Column, Bar, Pie, Map etc. Each graph types used for different purposes. A Line chart can be used to compare multiple continues data sets that means it's suitable for showing change over time.
The procedure to create a line chart or line graph in Google Doc Spreadsheet is similar to the procedure we follow in Microsoft Office Excel Charts. Because of this similarity those who're familiar with Microsoft Excel Spreadsheet may find it pretty easy in creating charts in Google Doc Spreadsheet.
Also Read :
I'm detailing the steps involved in creating a line graph in Google Doc Spreadsheet here. As mentioned above this type of graph represents multiple continues data.
Note: If you are unsure about selecting a chart, read our ultimate chart selection tips.
To create a chart or line graph in Google Doc Spreadsheet we can took a sample cricket match score as example.
So for explanation purpose I'm creating a line chart that shows the status of a 50 over limited cricket match (one day cricket match).
In a cricket match team A and B competed. Their match progress have shown in this graph. The score of Team A & B in 50 overs are shown in this chart, i.e. the position of both teams in every 5 overs continuously up to last over 50.
Steps to create a chart or line graph in Google Doc Spreadsheet
Sign in to Google Drive and create a Spreadsheet. Now enter the sample data I've given below (refer screenshot). But one important thing. Before entering the data given under "Overs", select the cells B3:B12 and from "Format" menu, choose "Number" then select "Plain Text".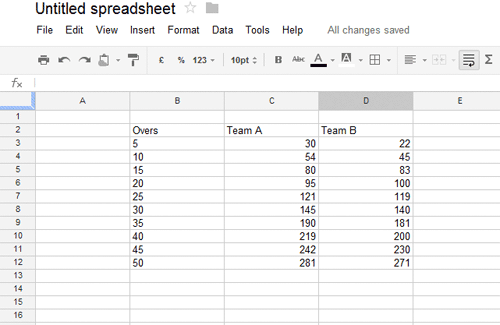 Now select the entire data, then go to "Insert" menu and select "Chart". It will open the Chart Editor dialogue box. Click on the tab labelled "Charts". Then click "Line". There you can see different Line charts. Choose the first one that is more common.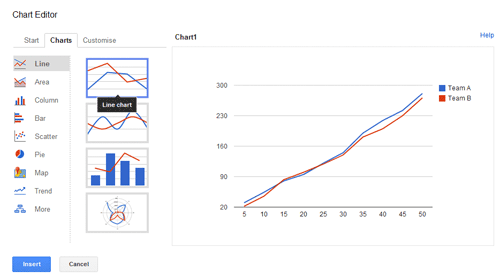 You're half done. Now the chart customization part is only left. For this click the tab "Customize". First give a title for your Chart. Here I'm giving title as World Cup Cricket 2011 – Team A Vs. Team B, Venue B'lore. Then choose legend position. You can see the legends, by default, on the right side of your graph (team names). I think the ideal place is bottom. So I set it like wise. In the above both case you can change the font color and font size, if you wish. Now choose a "Feature". I've picked "Smooth".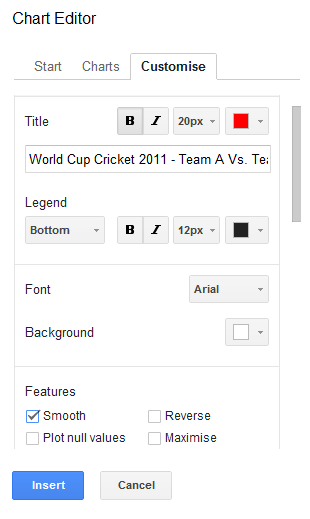 Now move to the bottom. See Axis customization options there. Label horizontanl and vertical axis. The horizontal axis shows the overs in the match so label it as "Overs". Y axis label as "Runs".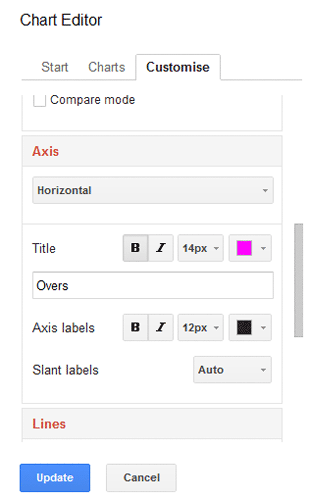 You are almost finished creating your first chart in Google Doc Spreadsheet. Now if you wish you can change background color, grid lines etc. from the same dialogue box and click "Update". See the sample finished chart below.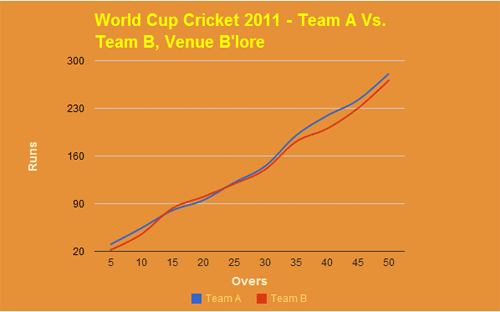 Similarly you can create any type of line charts or line graph in Google Spreadsheet. Simply follow the above tips.
---
Please check our DOWNLOAD section for eBooks and Paperbacks related to GOOGLE SHEETS!
---
May be interesting to read: Use of Four Different Sparkline Charts in Google Sheets