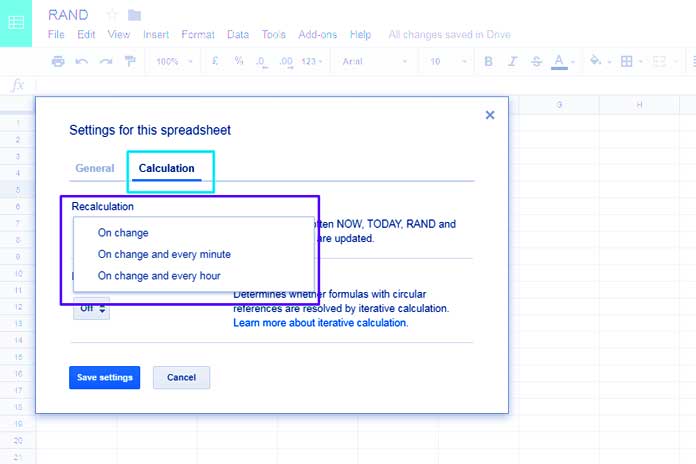 In this quick tutorial, I will explain you one of the important spreadsheet settings in Google Sheets. We can learn how to change the frequency of recalculation of Google Sheets NOW, TODAY, RAND, and RANDBETWEEN Functions. These four Google Sheets volatile functions can slowdown your application at some extent. So you should know how to change the recalculation intervals of these functions.
How to Change the Frequency of Recalculation of Google Sheets NOW, TODAY, RAND and RAND BETWEEN Functions
As already mentioned above, there are four volatile functions available in Google Sheets. They are;
1. NOW
2. TODAY
3. RAND
4. RANDBETWEEN
As you know, the above functions automatically recalculates as these functions are related to current time, current date and random numbers.
The time you entered get refreshed automatically. It's the case with date and random numbers. We can control this auto updating of time, date, and random numbers in Google Sheets. Before that let us see why these settings are important.
Why Volatile Function Recalculation Settings are Important?
This is because, these settings can affect your application's response time. So the recalculation settings are important and also you should only use the above functions if only necessary. By saying that we can move to the settings.
Steps to change the volatile function recalculation or auto updating timing.
Steps:
Open the Google Sheets file, where you want the settings to be made. It's not a global settings. That means you can make different settings for individual files.
Access Spreadsheet Settings under the File menu.
Go to the Calculation Tab as below.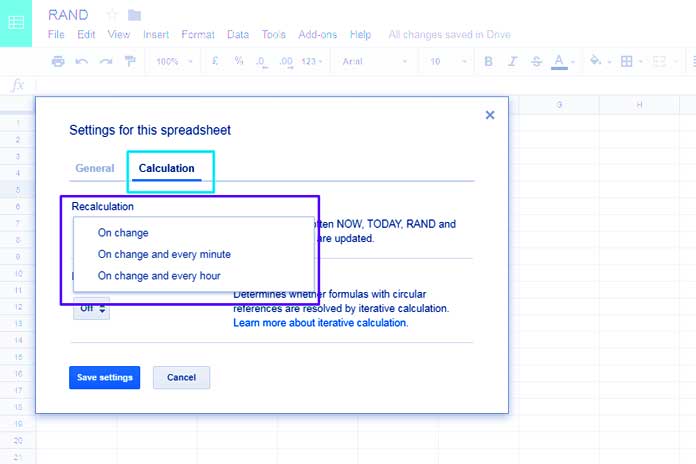 You can see there different recalculation settings.
As of now, there are three different recalculation settings available in Google Sheets. They are; On change, On change and every minute and On change and every hours. Select the settings that suites your spreadsheet needs.
Hope you enjoyed the above spreadsheet settings and tips. I will be back with more awesome spreadsheet tips and tricks in the coming posts. In the mean time, please check our spreadsheet tutorials HERE.