This is an another awesome Google Doc Spreadsheet tutorial from Info Inspired team. Refer our growing dedicated Google Doc Spreadsheet section here for more advanced tutorials. You can also ask us for more tutorials on the comment form below.
Repeating page titles in every page is very important when you print your data. It is only required if your data has two or more pages. If you are not going to use this feature, you have to copy paste the title row at the top of each page to make the printout neat and understandable. But it will surely destroy your data structure and affect filtering. Also the accuracy is not ensured that depends the print set up. So apply the below technique whenever you want to print multiples pages of Spreadsheet data.
How to Print Titles in Every Pages on Google Doc Spreadsheet
In Excel there is a separate option "Print titles" that only print the titles on every page. Because Excel has different options for printing titles, header and footers and freeze pane. In Google Doc Spreadsheet, it is in a combined form. So to print titles in Google Doc Spreadsheet, do as follows.
First count the number of rows where you have put the titles on your data

In the above screenshot, it is row number 3.
Go to View > Freeze rows.
There select "Freeze 3 rows.
Now go to File > Print.
Enable "Repeat row headers on each page".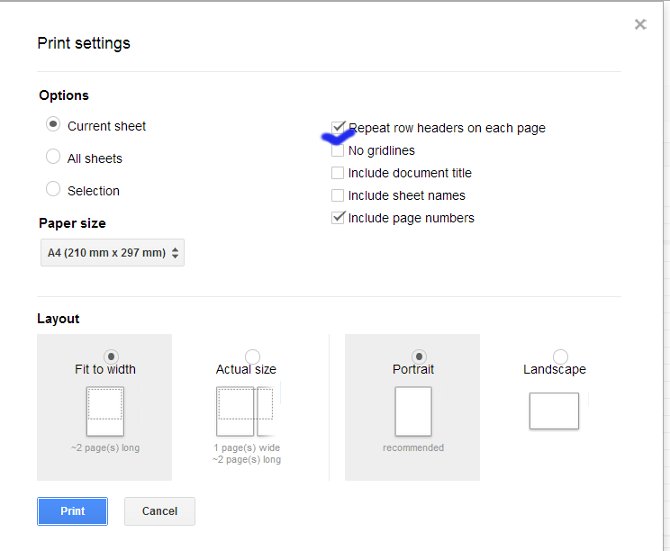 That's all. When you print your Google Doc Spreadsheet data, you can see the page titles repeated on each and every page.
This is a must to know Google Doc Spreadsheet tutorial that also answering your following queries;
How to repeat headers in Google Doc Spreadsheet?
How to freeze rows in Google Doc Spreadsheet?