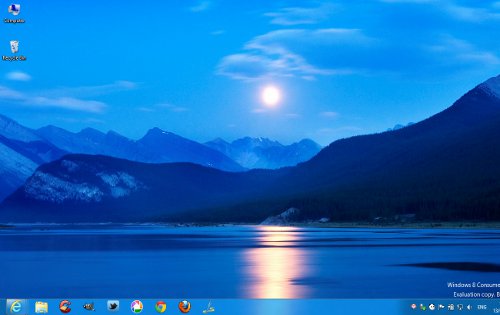 I know many of you are already using the latest Windows 8 theme. I am little bit late as this site is just launched. So I wish to introduce this theme for all those of my readers who are new to Windows 8. If you are yet to try your first official Windows 8 theme, continue reading. Nightfall and Starlight Panoramic is the first official Windows 8 theme released by Microsoft. This genuine Windows 8 theme pack includes some beautiful imagery of galaxies, steep mountains, verdant meadows, and serene seas. For Windows 7 Microsoft has a special Windows 7 personalisation gallery. But Microsoft is yet to introduce its own Windows 8 personalisation gallery. Then you may ask where is the original Windows 8 theme released. Currently it is under Windows 7 Personalisation Gallery.
Nightfall & Starlight is a Panoramic theme for Windows 8. This is the third theme actually. The first two Windows 8 themes are Nature and Windows 8 that you will get along with your Windows 8 CP installation. These two themes don't have any panoramic wallpapers and both are preinstalled. Nightfall and Starlight theme has nine stunning panoramic wallpapers. You can download and install this first official Windows 8 theme from the below link.
Update: Microsoft is moving themes to Windows Store. So the below link removed by author.
Link : Download Nightfall & Starlight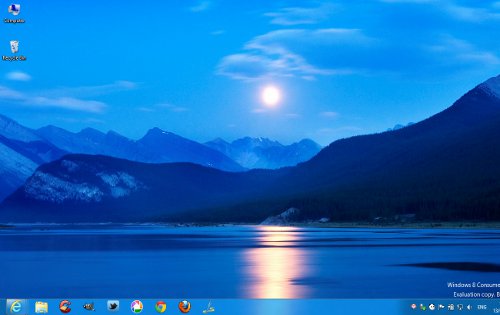 Microsoft says this official Windows 8 theme is "designed to extend seamlessly across dual monitors with identical resolution settings". That means if you allow Windows 8 to run on dual monitors with same resolution this theme will dynamically stretch across it. The other features of Windows 8 themes are that it changes the glass colour based on theme colour automatically. Windows 8 themes give polished look to Windows 8. So rely on HD Windows 8 genuine themes. If Microsoft released new themes for Windows 8, I will surely post the news here.
One final note. As a new site we need your extended help to increase our visibility on the World Wide Web. So consider promoting us on social networks. We are on Google+, Twitter and Facebook. Thanks.