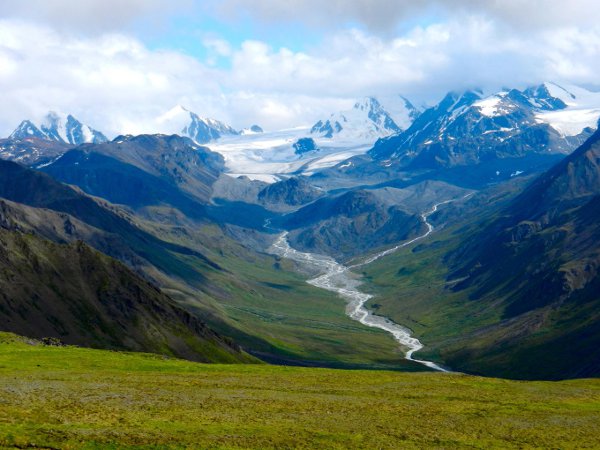 Our mother earth is with lots of wonders. Most of us are unlucky to see many of the wonders that really exists. At least we must know there are several amazing places on the earth that makes a heavenly feeling. Here I am sharing you 12 beautiful photos of places that make you feel you could be there. Ever think these places really exist on our mother earth?
Castell Dinas Bran, Wales
This ruins of castle is also known as Crow Castle. It is in northeastern Wales. A Climb to here gives you the panoramic view of Llangollen town and the surrounding Dee Valley.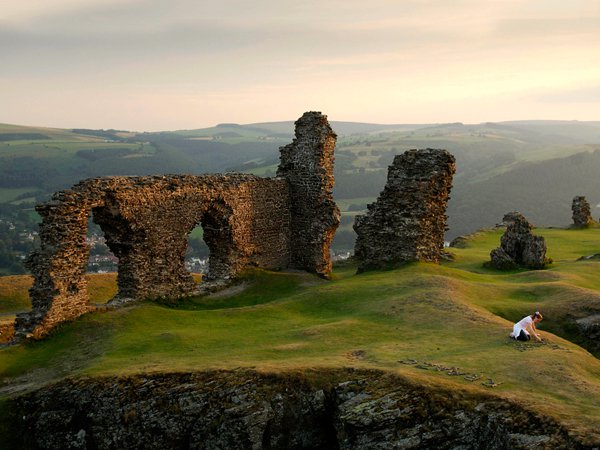 Photo Credit : National Geographic
Talkeenta Mountains, Alaska
It's a mountain range in Alaska. It's very impressive. Talkeenta means "where the rivers meet". The rivers Susitna, Chulitna, and Talkeetna meet here and the serene beauty here is amazing.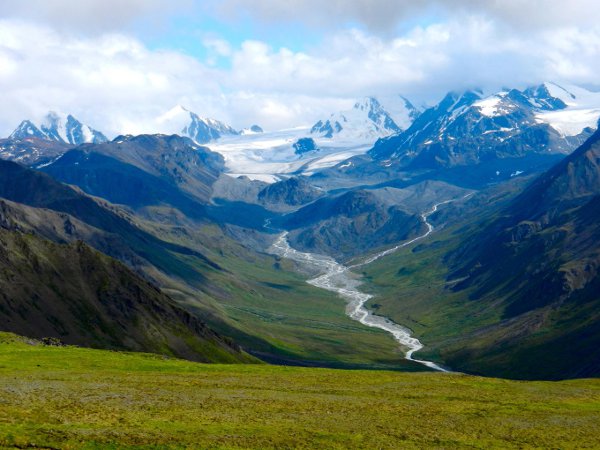 Photo Credit : Imgur.com
Tunnel of Love, Kleven, Ukraine
Green trees naturally covering a train track. Local people call this place "Tunnel of Love". Tunnel of Love is located in Kleven, Ukraine. It looks spectacular.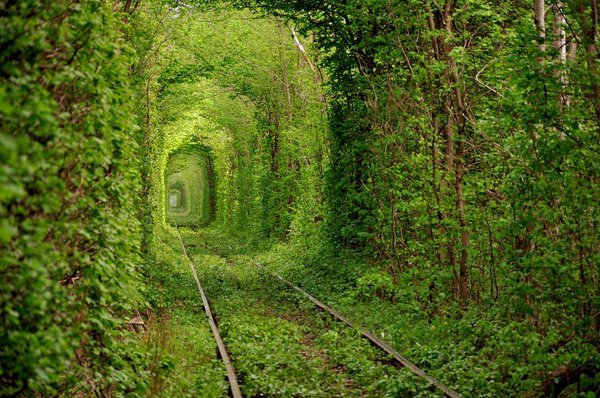 Photo Credit : 500px.com
Hitachi Sea Side Park, Japan
Hitachi Seaside Park is located next to the Ajigaura Beach in Hitachinaka, Ibaraki prefecture, Japan. The park has flowers all year round and that also in different variety. It's a famous tourist destination.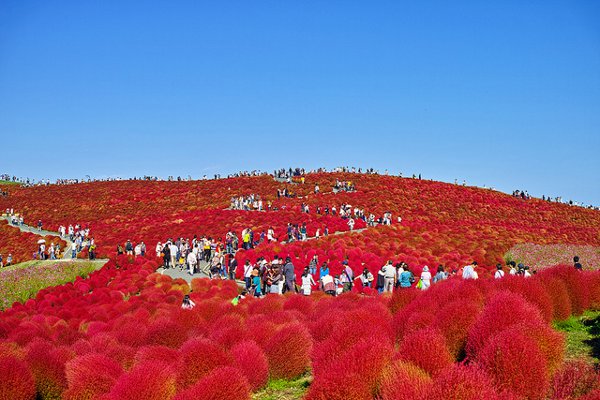 Photo Credit : Flickr
Mount Taranaki, Egmont, New Zealand
It's a visual beauty but a volcano in its heart. The surrounding landscape to this is the Egmont National Park. Experienced mountaineers can only climb Mt. Taranaki that offers a spectacular view.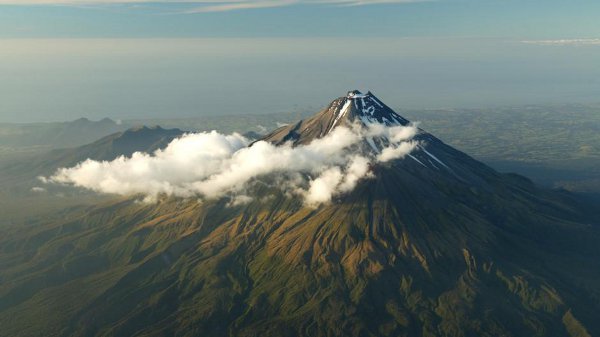 Photo Credit : www.newzealand.com
Zhangye Danxia Landform Geological Park, China
This unbelievable place really exists on our mother earth. The Zhangye Danxia Landform Geological Park is adorned by the unusual rocks which are different in colours. The different colours of these rocks are the result of red sandstone and mineral deposits.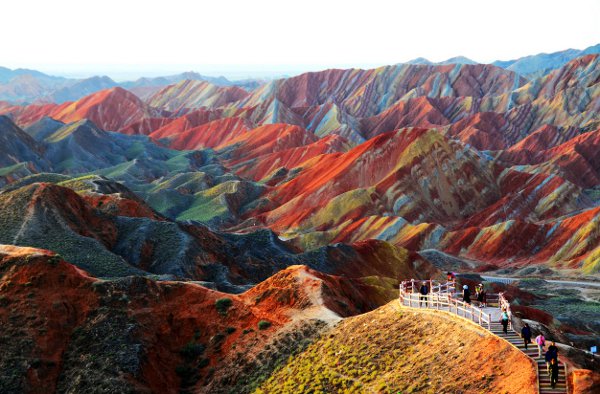 Photo Credit : Unbelievable Info
Everglades National Park, Florida
Everglades National Park is in the Florida state in the U.S.A. An average one million people visit this place every year. It is the home of American crocodile, Florida panther like lots of rare and endangered species.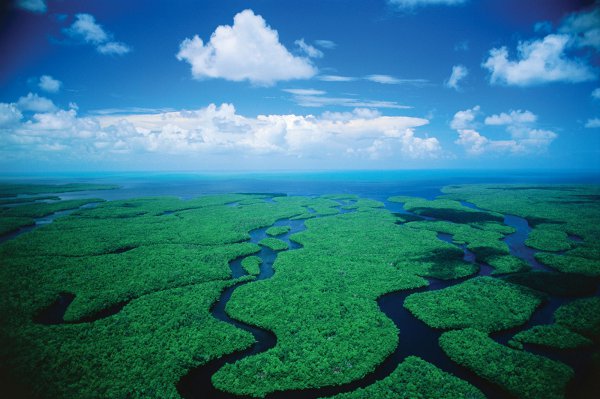 Photo Credit : dailyinspires.com
Canola Flower Fields, China
Your eyes are not deceiving you. From March to April you can see the spectacular view Golden Canola flowers at Luoping in Yunnan province of China. Jinji is a Mountain in the northeast of Luoping. It is considered as the best place to view the golden Canola flowers.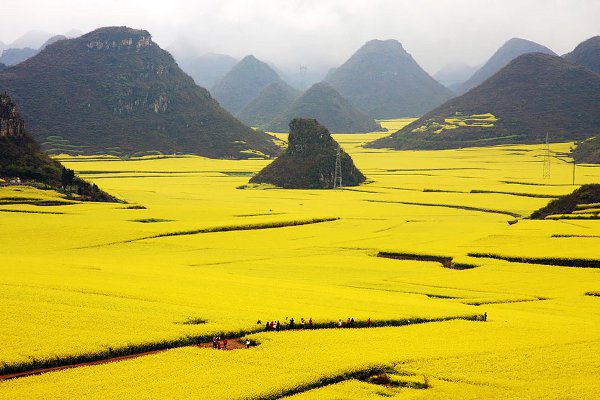 Photo Credit : www.wherecoolthingshappen.com
Natural Heart Shaped Chembra Lake, Wayanad, India
Kerala has no dearth of greenery. In Kerala, Wayanad is one of the best tourist destination. This natural heart shaped lake called Chembra Lake is in Wayand. It never dries. Chembra is located in Meppadi.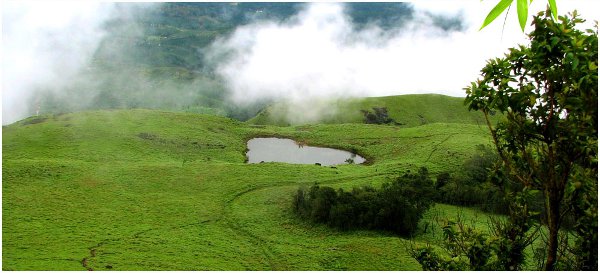 Photo Credit : thesummervillawayanad
Lake Baikal, Siberia
See the ice sculptures created by the nature. Lake Baikal is in Siberia, Russia where the temperatures reaches minus 28°C. It is hard to believe that such a beautiful place really exists in this world. It's a fresh water lake that holds 20% world's fresh water.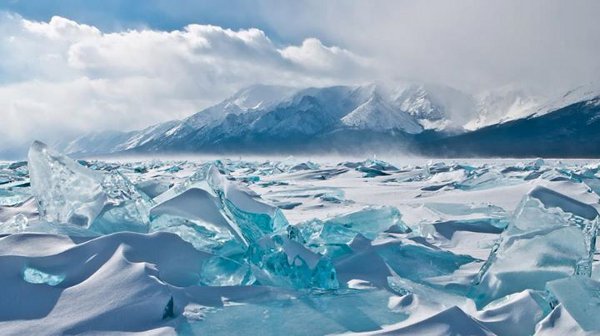 Photo Credit : Goto Baikal
Lake Retba (Lac Rose), Senegal
This is another creation of the nature that makes us amuse. Lake Retba is less than an hours journey from the capital city, Senegal. Why the water in Lake Retba is Pink? It is because of the high salt content in the water that attracts Dunaliella salina algae bacteria.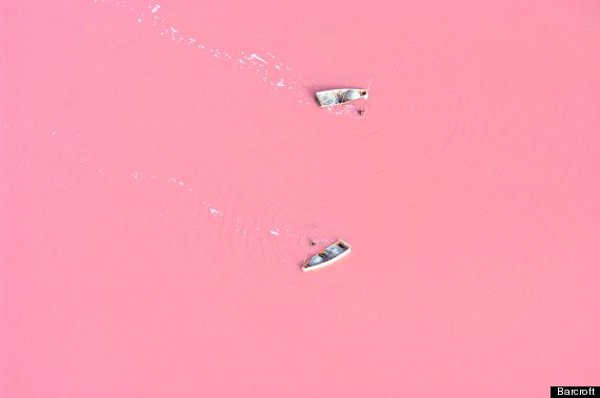 Photo Credit : huffingtonpost
Tea Fields Near Mt. Fuji, Japan
Japanese tea fields near mount Fuji is a visual pleasure to see.  It's located on Honshu Island.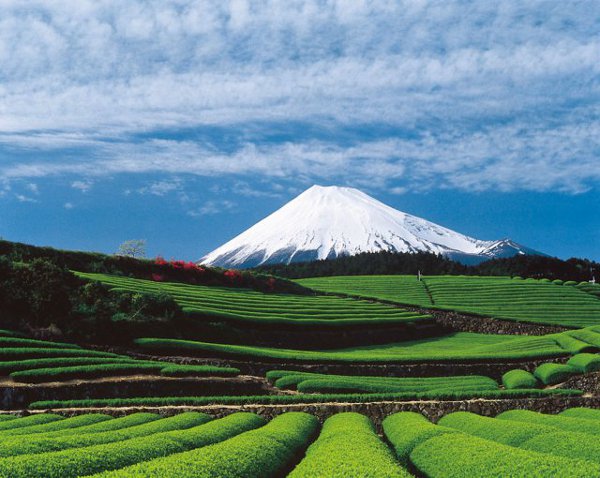 Photo Credit : travelandtea.wordpress.com
I know the above rare photos of scenic places have taken you to a different world. These places are really exists on our earth. You wish you could be there. Right?