The best way to create, edit and view the latest versions of Microsoft Excel files on the go are to use Quick Office on your Android device. The Quick Office app is from Google and it is free. No need to connect to the internet to open files on Quick Office. Using your android file manager, you can easily open any Microsoft Office Excel, Word or PowerPoint files using Quick Office offline. We will discuss the advantages and more about Quick Office in or coming articles. Here we can learn how to create a line graph or line chart using Quick Office, that shows the progress of a 20-20 cricket match. Create Microsoft Excel supporting graphs using Quick Office on your Android device.
Just follow the below steps to create a line graph or line chart using Google Quick Office Spreadsheet on your Android.
Steps:
Open Quick Office.
Tap the "+" button on the top and select "Spreadsheet".
Now input data as follows. Just double tap on the respective cells to make the input. While inputting the data, you have to take care of one thing. After entering the data in one cell, use the enter key on the keyboard to finish the entry. Then double tap on the next cell to proceed with the entry.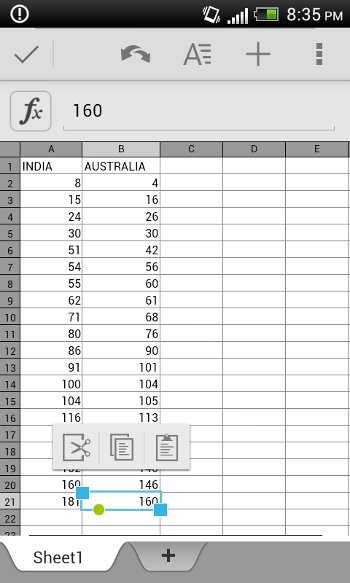 After finishing the entry, tap on the first cell where you put "INDIA" . Touch the blue square dot at the corner and drag it to the last cell, where you put the digit 160. This way you can select the entire data on Quick Office.
Now tap on the "+" sign again and tap on "Chart".
From the available charts, select "Line" as we are going to create a line chart showing cricket score comparison of two teams.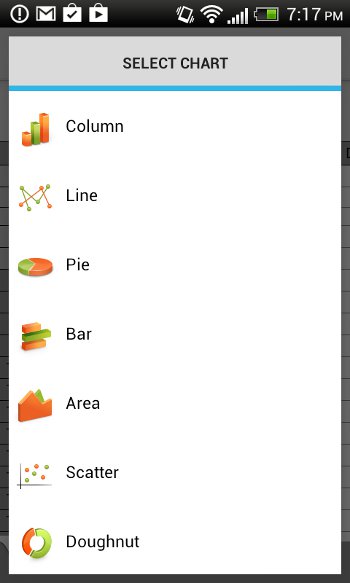 Select the first chart and it is the one most commonly used.
That's all. See your finished chart as below.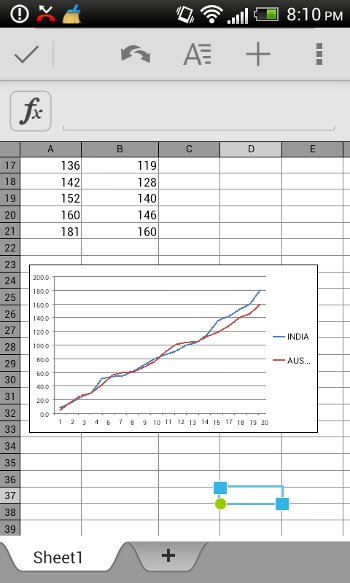 The chart is being saved in the latest Microsoft Excel Spreadsheet format. You can open it in Exel and if you wish you can apply more customization there. Using Quick Office spreadsheet, you can create charts very easily. The files open in Excel in a flash!
Conclusion: Quick Office is the best way to create Excel charts on the go. The drawback is the lack of customization. If there is some option to customize the axis, then no doubt, we can use Quick Office to create advanced charts. Then no need to depend Microsof Excel for customization.