If there is a full functional office suite available for Android devices, many users will switch to Android devices from laptops. There are apps that provides MS Office compatibility on android. The original Microsoft Office Suite is costly. To use the free Office Mobile on Android, users need an Office 365 subscription. So if you want to create, edit, print Microsoft Office files on your Android for free, you must try for an alternative. Here comes Quick Office from Google useful. Quick Office supports Microsoft Word, Excel, PowerPoint file formats. As a Spreadsheet aficionado, I started using Quick Office Spreadsheet and found it very useful to use on the go. Below are some quick tips for Quick Office spreadsheet users. It will be useful for new users of Quick Office, as there are lots of dissimilarities compared to the desktop version of Office. You can use the same formulas, formatting etc. in Quick Office on Android with some limited features. But applying the same is a little bit different as Quick Office needs to adjust to the small mobile platform screens. Find below some most commonly used Quick Office tips.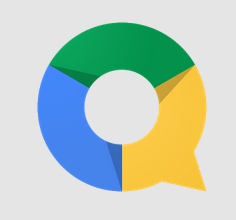 Quick Office Spreadsheet Tips and Tricks
1. How to Insert Rows in Quick Office Spreadsheet?
Go to the cell where you want a new row to be inserted. Then tap on the three dots menu and select Rows/Columns > Add Row. A new row will be inserted just above the selected cell.
2. How to Insert Columns in Quick Office Spreadsheet?
Go to any cell in the column of which a new column to be inserted to the left. For example selecting any cell in Column B and applying menu > Rows/Columns > Add Column will result in inserting a column left of Column B.
3. How to Insert New Sheets and Rename Sheets in Quick Office Spreadsheet?
Double tap on the respective sheet name to rename any sheet. To add new sheets tap on the "+" sign just right to the sheet name.
4. How to Delete Sheets in Quick Office Spreadsheet?
If you have multiple sheets in your Quick Office Spreadsheet, tap on the sheet name which you want to delete. Then you can see an "x" mark on the right side of the sheet name. Just tap on it.
5. How to Delete Columns in Quick Office Spreadsheet?
Follow step 2. Instead of Add column, select Delete column.
6. How to Delete Rows in Quick Office Spreadsheet?
Follow step 1. Instead of Add row, select Delete row.
7. How to Save Files Directly to Google Drive Cloud in Quick Office?
While setting up / installing Quick Office on your Android, you can decide whether to go ahead with your existing Google account or a different one. Accordingly the save to Drive option will be different in Quick Office. You can save Quick Office file to different Google Drive account.
To share Quick Office File to your Google Drive account associated with Quick Office, follow the below steps.
Tap the floppy drive icon at the top.
Select "save" or "save as" >Google Drive and tap on the floppy icon again.
To share Quick Office file to your default Google Drive account that you used to set up your android, follow the below steps.
Tap on the three dots menu and select Share > Drive.
8. How to to Know the Last Edited Time of Your Quick Office Spreadsheet.
Tap on the floppy icon and select "properties"
Some Advanced Quick Office Tips
9. How to Print Quick Office Spreadsheet Directly from Android?
Go to our tutorial to set cloud print. After completing the steps there, open your Quick Office file. Tap on the three dots and select Share. You can see Cloud Print option there. This is the best way to print any files from Android remotely.
10. How to Create Charts in Quick Office on Android?
See our tutorial here where I have already illustrated the steps in creating a 20-20 cricket match score card comparison. This will enable you to learn creating charts using Quick Office on your android.
Share if you know any advanced Qucik Office tips below.