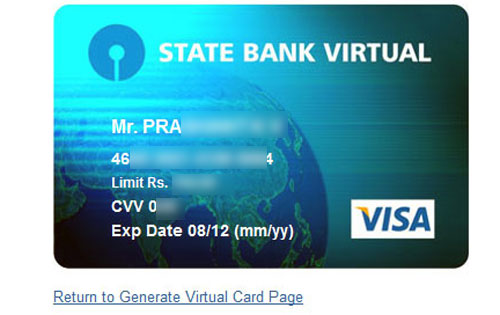 This is my first how to guide on Info Inspired and it is about banking. VCC is one of the best option for online transactions, if you possess or not a Credit Card, as it is highly secured and easily creatable online with a Debit Card. Also many bloggers from India badly need this service, if they don't have a CC, in order to meet their international payments as PayPal usage is limited in India. Before coming to the steps to create a Virtual Credit Card using HDFC Debit Card for free, I wish to share you why I began to use this alternative Credit Card online.
The story began couple of months back. I set up one of my website with the help of an online friend. He is also a reputed blogger from my near by city whom I found online. The reason to contact him was that I don't have a Credit Card (CC) to meet my abroad payment (hosting expenses) and I don't have an alternative Credit Card option like the one we are going to discuss in below.
I wished to host my website with a #1 hosting company in the world located in the U.S. My online friend helped me to set up my blog. Even though I know to set up a website, I forced to depend a third person. The only reason I don't have a Credit Card. He paid on behalf of me using his CC and setup my blog and charged me accordingly. I didn't bother much about the paid amount. But things were getting worse for me when I wanted to upgrade my hosting account later for multiple website hosting.
I could not find anyone to pay for me even though I agree to advance payment them with service charges via online bank transfer. So I badly needed a solution. The deadline of my service renewal was fast approaching. I don't have time to apply for a CC in the eleventh hour. Finally I found a solution when I was desperately search for one online. It is virtual credit card the alternative Credit Card online.
In India few banks offer this alternative Credit Card service or VCC. Alas! I don't have a bank account with any of the banks offering VCC. What to do. I approached my nearby HDFC branch and within four working days I got an active bank account with them including an International Platinum Debit Card (other than HDFC few other banks in India offers VCC including ICICI Bank, Kotak Mahindra and ICICI Bank). So I used this Debit Card to create a Virtual Credit Card (VCC) online.
It is an alternative credit card online with no physical existence. I used this VCC to pay my web hosting company, i.e. HostGator, payment. Yes with VCC you can make online payment internationally that you can't do with your online bank account or Debit Card from India. Yep! VCC has international acceptence.
Name of Banks offering Virtual Credit Card (VCC) in India – The Alternative Credit Card Online
The VCC of different banks known in different names. At present, I think, the following banks offers VCC in India (I only used HDFC VCC so far). Check with your bank whether they offers international Debit Card with VCC feature.
HDFC – NetSafe
ICICI
Kotak – netc@rd
Axis Bank – eShop
Few Benefits of Virtual Credit Cards
Virtual Credit Card has many advantage over debit card and credit card. It is not a plastic credit card, so no physical existence. It is created online so there is no chance of loss or theft. VCC only allows you to pay one time. For the next time you need to create another VCC. That means nobody can re-use it. You fix an amount you required and pay the amount online. Soon the card gets expired. Other important benefit is that it is widely accepted unlike your debit card. It is customizable. You decide what amount to add to your VCC. I think you will not charge any extra amount using it. It is zero charge as far as I know.
How to Create NetSafe VCC using your HDFC Debit Card and Make International Payment
First ensure that you have your debit card and account details ready with you. Now go to HDFC Home Page and choose "go to HDFC home page again and choose "and this time click "Login".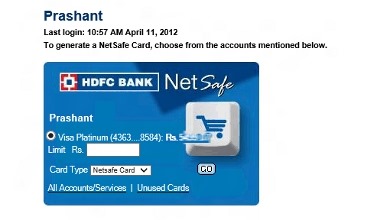 Now you can generate your one time use NetSafe VCC. Enter your amount, choose card type. That is all. You will be instantly provided with VCC with all required information to pay internationally online. Please note that the validity of the card is maximum 48 hrs. and you can create maximum 5 cards per day. Similarly you can create VCC of other banks online.
I am sure that this article is an answer to your different queries like what is virtual credit cards, is there any alternative Credit Card online, what is NetSafe, is VCC safe etc. Share this useful tips with your friends.