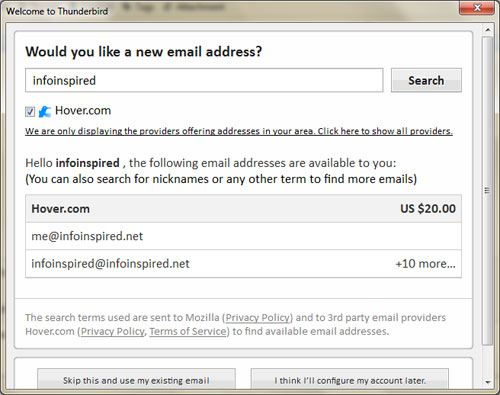 Thunderbird 13 is now ready for download with two new cool features that is worth to try. They are creating personalized email address and send large files as attachment using YouSendIt. YouSendIt is the launch partner that means more services are expected with future updates of Thunderbird. Many wish a Dropbox integration and it's not clear whether it will be available in future. Thunderbird is an open source free email application available for Windows, Mac and Linux and it's from Mozilla.
Update:
YouSendIt is no more available within Thunderbird. Now you can use Box within Thunderbird instead of YouSendIt. Click HERE!
Now about the new Thunderbird features. The first one, personalized email address is in partnership with Gandi and Hover, the hosting providers based in Europe and North America. These services enable users to sign up for new personalized email addresses within Thunderbird 13. Anyone can sign up with either of the company.
How to Create New Personalized Email Address in Thunderbird?
To do this go to File->New->Get a New Mail Account and go through the online instructions.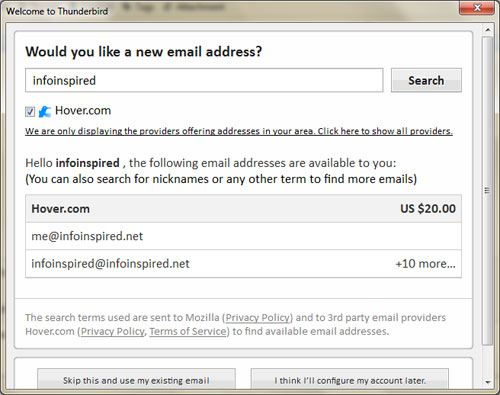 The second feature send large files as attachment is made possible by allowing users to sign in to popular online file sharing service YouSendIt. They are providing free service to share files up to 50 MB for free. Sign in to YouSendIt within Thunderbird 13. Based on your settings, Thunderbird will allow you to use YouSendIt when the upload file size exceeds a set limit. The virtue you can send file links instead of large files that is useful in many ways. Of course Improved speed of sending mails and avoid email bounce back are the main benefit of this feature.
How to Set up YouSendIt on Thunderbird 13?
Go to Tools->Options and click "Attachments" Tab. Click "Outgoing" and click the "Add" button. Enter your existing YouSendIt username (the email address that you used to create your account on YouSendIt) and click "Set up Account". If you don't have a YouSendIt account first create one. You can create one "Lite" account from within this set up window by clicking the link "Need an Account?" (see the screenshot below).
Now one final and important step. It's to set the file size which Thunderbird will remember and offer you to use YouSendIt when the target meet. By default it's set to 1 MB that means when you try to upload a file larger than 1 MB Thunderbird offers you to use Filelink feature, here YouSendIt to upload that file. You can configure the file size manually from the same Window (Tools->Options->Attachments->Outgoing).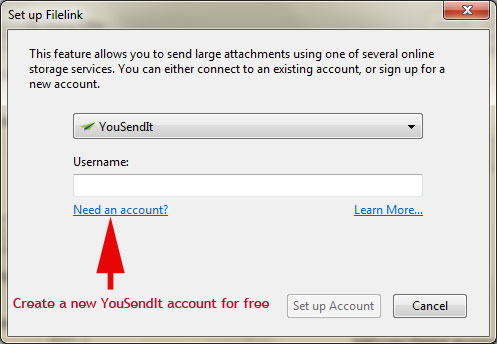 For your reference here is the YouSendIt Lite Account Features (Free Account)
Maximum file size: 50 MB
Available storage for saved files: 2 GB
Maximum download bandwidth per month: 1 GB
Maximum File Downloads: 100
Knowledge Base: Yes
If you new to Thunderbird you can download the latest version of this awesome service from the below link. For existing users update it to version 13 from Help->About Thunderbird.
Link : Download the latest version of Thunderbird
Share the news with your friends.