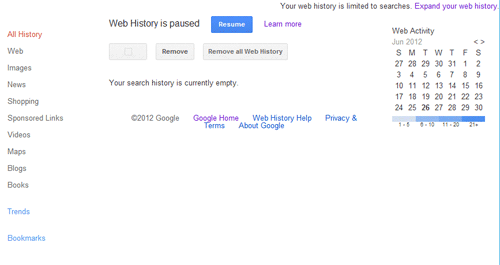 If you have a Google account or willing to create one you must know about Google Web or Search History. Most probably you are using Google as your search engine to find the information you want on the web. Some of you may be using Bing or any other search engine as your primary search engine but your using of Google can't be totally ignored. The reason many webmasters offer Google search on their site to help visitors to find customized results from their page, or your browsers address bar search engine may be set to Google by default. So all of us use Google that is why we should know how to remove Google Web or Search History and it's different from what you might think.
I will back to the topic again. I told you all of us use Google Search. But the only difference some use it almost every day while some others rarely. Whatever the case Google stores your search history on its servers when you signed in to your Google account. It's different from your browser storing your browsing history.
You can remove the browsing history easily with desktop apps like CCleaner (I mentioned it as it's my favourite) or using browser plugins or using shortcut keys like Ctrl+Shift+Delete on Chrome. But it will not erase the Google Search History stored by Google.
To remove Google search or web history you need to do it separately. You can pause, stop or remove entire Google Search History quickly. Before going to that let me clear why you may require to clear Google Search History.
The main thing, as you may already noticed, when you signed in to any of your Google account, you may get a different search result on Google when performing a search. Check it by singing in and signing out for any topic on Google. It's because Google knows about your online activity from your search history and provides search results based on it. By default this feature is turned on.
That means Google stores and provides the search terms, and visited links for current day and past for all Google account holders. When you Pause, Stop or Remove Google Web History, Google stops providing personlized search results. It's the core point.
Another thing, if some one has access to your Google Web History page he can clearly knows more about you. What you search on Google and what sites you visits thus they can get a clear picture of you.
When Web History Turned On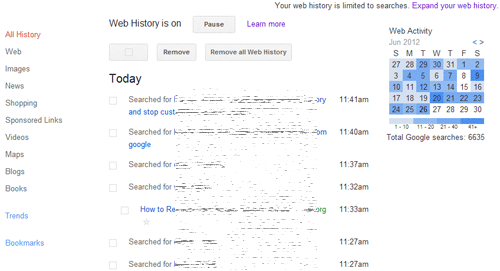 When Web History Turned Off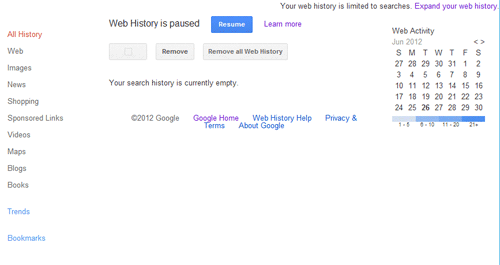 How to Pause, Stop or Remove Google Web or Search History
1. Go to Google.com/history
2. Click Pause button to pause.
3. You can remove entire web history from Google by clicking "Remove all Web History" and partially by clicking "Remove". When you remove all web history it automatically Stops Google from being recoreded your web history in future.
Note :
"Google maintains a separate logs system for auditing purposes and to help us improve the quality of our services for users"