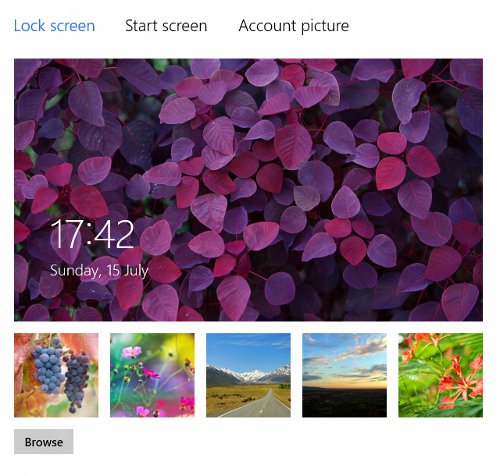 You can choose your own new images for setting as Windows 8 lock screen background. Microsoft, by default, provides few numbers of background images for personalising Windows 8 Lock screen. Though the available lock screen background images or wallpapers are limited, Microsoft provides options to choose your own new images for lock screen background. Skip the next two paras for the tips to set new wallpapers on lock screen and for download some free lock screen backgrounds.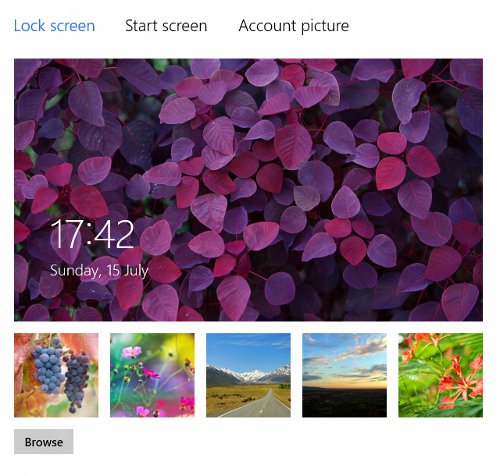 The shortcut key for Windows 8 lock screen is Windows Key + L. But you can also enable auto lock Windows 8 screen by enabling "on resume, display logon screen" on Screen Saver Settings. It automatically locks your Windows 8 screen when your screen is idle for a predefined time.
To change the appearance of your Windows 8 Lock screen you many need to change the available background images. Other than the provided ones you can use your own personalised images for this purpose or download some good ones online.
Tips to Change the Lock Screen Wallpapers in Windows 8
On the Windows 8 Start Screen, where you see Windows 8 Live Tiles, click on user name that you can see on the top right side of the seen with your account picture. Click on "Change Account Picture" and choose "Lock Screen". Click "Browse" to pick your own pictures to set as your Windows 8 Lock Screen. If you haven't seen any images there download few amazing background images here for free. But remember to save the images to "C:\Users\username\My Pictures" which might be the default picture save location on Windows 8.
Update 11.08.2017: The above download link no more active!
Some times you may probably want to take a screenshot of your Lock Screen for some purposes. Do you know how to take Windows 8 lock screen screenshot? Follow the above para to change the lock screen background. And take the screenshot of this preview and remove the portions other than the background using any photo editing tool.