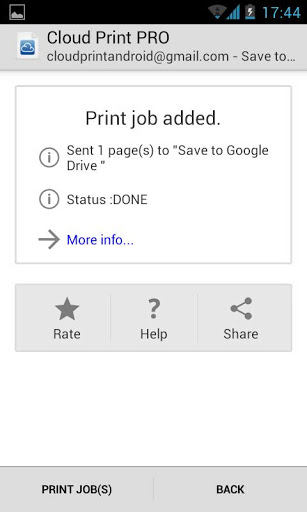 If you are not properly using your Android Phone, it is just like a toy with the capability of making calls. You install lots of games and some chat apps and feel happy with your device. Don't limit it to that. Here in this post I am explaining you an awesome android trick. We can learn how to print wirelessly from and Android Phone. We can see how to directly send print job to your desktop printer from your Android that from anywhere. You just need internet connection to work this feature. Take a photo using your phone from wherever and instantly send it to your home printer.
We can use Google Cloud Print to setup your android to print wirelessly. It is very straightforward and anyone can do it.
How to Setup Google Cloud Print to Print Directly from Android Phone
First you need to setup Google Cloud Print on your computer. If you have cloud ready printer, then no need to run the set up on your computer. I have detailed how to setup Google Cloud Print in a previous article. Go through it first below.
Google Cloud Print Setup [Complete Tutorial] Written in Lucid Style.
Hope you have completed the above step as per tutorial. If you can successfully print using the above tutorial, then the android setup is very easy.
To print directly from an Android Phone using Google Cloud Print technology, you need a popular third party app called Cloud Print. It is free on Google Play and sized only 4.43 MB.
Set up Third Party Cloud Print app on an Android Phone
Install the app and run. Accept the terms.
Now you need to configure Cloud Print on your phone.  Tap the configure button on top right. You can see your Google Account that you have used to configure your phone. Select this or use a new one. The important thing is that you should use the same Google Account which you have used to setup Google Cloud Print on your PC.
Selecting or adding Google Account will take you to the printer page where you can see your available printers. Select the printer that you use.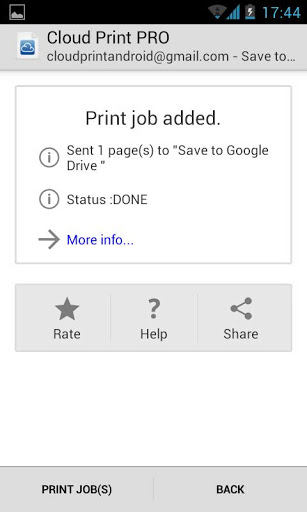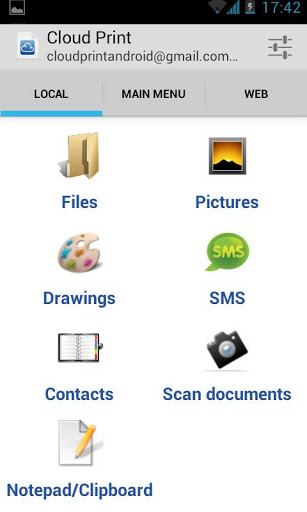 Now you are ready to print directly from your android phone! You can print from anywhere. Suppose you are in a party, take a photo and directly print it your cloud set up printer. No matter how far you are. The only thing is that you need proper internet connection on your computer and on your phone. And your printer and computer must be turned on and Google Chrome is opened on your Computer and signed in.
You can print different file formats such as pdf,jpg,jpeg,docx,ods,xls,xlsx,ppt,odp,txt,doc and xps through this cloud print set up from Android. Print locally stored files on your phone, Gmail Mail attachment, Mail, DropBox content etc. directly from your phone.
Conclusion:
Cloud Print is working flawlessly and the set up is only child's play. that may be the reason for its popularity. You may find other apps for cloud printing on Google Play. Honestly speaking Cloud Print from Paulo Fernandes is one of the best app to print using Google Cloud Print technology.