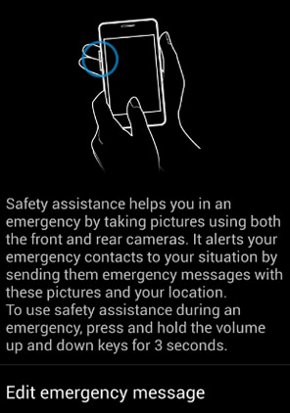 Here is a very useful Galaxy S4 feature that you may not notice if you are a novice user. It is a safety assistance mode, a feature that can sometimes save your life. What is Galaxy S4 Safety Assistance Mode and when and where it will come in handy for you? I will explain you what is this feature and how to enable or use Safety Assistance Mode in Galaxy S4.
If you are in a city where you feel some insecurity due to the strange environment or the poor track record of the city you can use this feature of Galaxy S4. When you are out for a walk, don't put your phone into your wallet or pocket. Hold it firmly on your hand. When Safety Assistance feature is enabled, press and hold volume up and down keys for 3 seconds to send an emergency message. Your already set contacts will get an emergency message mentioning your situation. They will also get two images that has taken by the front and rear camera of your phone. So they can react immediately. When you face some problems immediately you can use this feature. Yep! At times it can save your precious life.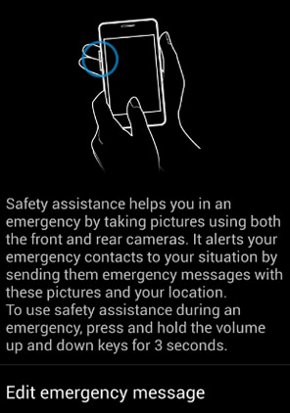 How to Activate Safety Assistance Feature on Galaxy S4
You can enable it from Settings > My Device > Safety Assistance.
First test this feature and ensure that your predetermined contacts get this message. Also let them know before trying this feature. Make sure that you can easily access your phone to use this feature. So better hold your phone on your hand and laying your one finger on this button. You are not alone. Your smartphone is your life companion.
Have you ever used this feature. Then share with us when and where? You can share your views in comments below.