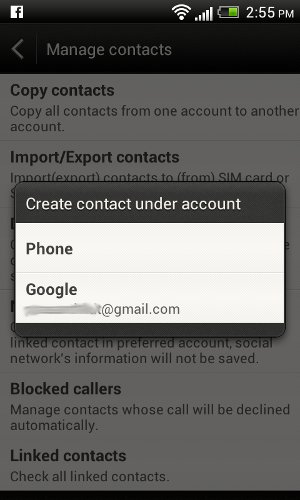 You can use Gmail as a secure backup place of your android contacts. There are several options available to take a complete back up of your android contact. For clarity I will explain my part of the case.
Recently I found a limited network access message on my Android phone lock screen. It alerted me that I could only make emergency calls on my phone. I contacted the representative of my network service provider over phone. They told me nothing went wrong with my connection. But my problem was not solved. So I decide to met the customer care representative in person. He had checked my phone and found that my SIM card was damaged. So I replaced the SIM. I got a new SIM with same contact number, but they charged.
Before replacing the existing SIM card, I took a complete back up of my Android phone SIM contacts to Gmail. Then I replaced the SIM and synced the contact numbers to my phone back. Now I've all my previous SIM contacts on my Phone.
I have also other option. I can transfer the contacts to my phone memory or storage card which I didn't opt. Do you know why? Because I can use Gmail as my secure storage place of contacts. I realize it when I faced the problem of damaging my SIM. It's not secure to store the contacts to SIM or phone. Even if I lost my phone I can now recover my contacts from the safe cloud storage space in Gmail. Hope you understand the importance of backing up your contacts.
Here we can see how to use Gmail to Back up your Android contacts. This is a complete tutorial to back up android contacts to Gmail. Also I will explain how to get the contacts back to your android phone from Gmail by syncing.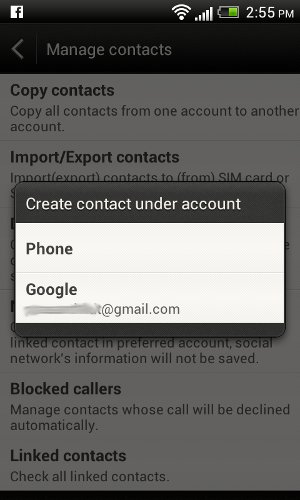 Follow the below step by step tutorial to copy your android contacts from SIM card or Storage Card to Gmail.
Open the contacts lists (People) on your phone.
Tap on Menu>Manage Contacts.
Find the Import/Export Contacts and select Import from SIM Card or Import from Storage Card as per your Choice.
Select Google.
One part has been completed. Suppose you have copied your contacts from your SIM card to Gmail as per the above method. If you replaced the SIM, you can get all the contacts back on phone. How? Follow the below steps.
Go to Settings>Accounts and Sync.
Select Google.
Tap Sync Contacts.
How to edit the contacts copied on Gmail?
Log in to your Gmail account. Locate Gmail with a drop down arrow on the top left side of the screen. Click it to access your "Contacts". Here you can delete the contacts or edit. This Android Contacts back up procedure will also be useful, when you root your phone or experiment with your phone.