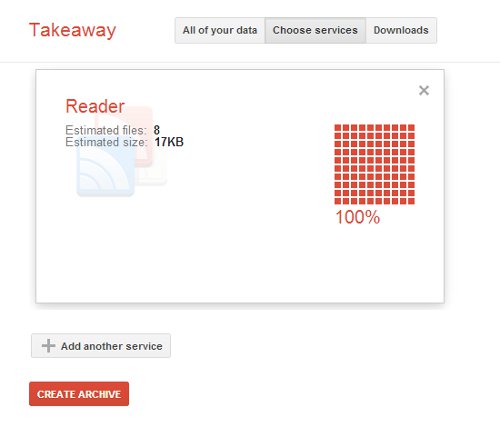 After July 1, 2013 Google Reader will only be a memory. People who are the regular users of Google reader will continue to remember the good old days they have spent with Google Reader. Any how to there are alternatives -not replacements- to Google Readers. AOL Reader is the new alternative to Google Reader. It is in Beta stage and only the web version of AOL Reader is available. Also the access is limited for the time being. So you have to request an access to AOL Reader to get an invitation. AOL Reader allows users to migrate from Google Reader quickly. Users can upload the Google Reader back up to AOL Reader. In this post we can see how to upload Google Reader subscription to the new AOL Reader. There are two steps involved in this process. First we have to take a back up of all of our subscriptions from Google Reader using Google Takeout and then upload the back up to AOL.
Step 1
How to Take a Complete Back up of Google Reader Subscriptions
It is simple and straight forward. On Google Reader go to Settings->Reader Settings (click on the wrench menu to access settings and it is on the right side of the screen)
Then go to the "Import/Export Tab"
Under "Export Your information" click on "Download your data through take out"
Make sure that the active tab is "Choose Services"
Click the "Creative Archive" button.
Form there download the file to your computer. Again you may be required to sing in to proceed the download.
Get the download file from the default download location on your PC. It is in the form of a zip file with the file name as starting with your Google account address. It may contain your personal information. So keep this file on a secured location.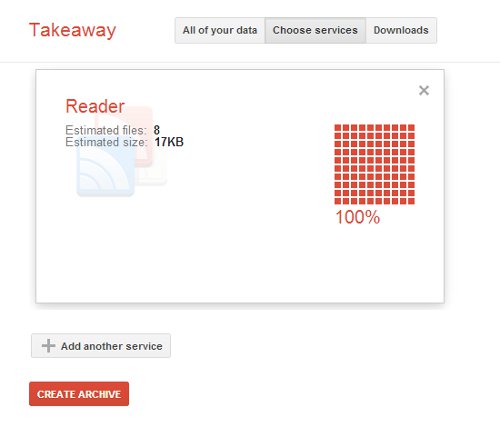 Step 2
How to Upload Google Reader Subscriptions to the New AOL Reader
Unzip the file download above.
AOL Reader allows you to migrate from Google reader. It supports subscriptions in standard OPML format. You just need to upload the "subscriptions.xml" under "Select an OPML file" in AOL Reader. The xml file you can find in the above unzipped folder.
Read your stories on a new way on AOL Reader. Adieu to Google Reader!