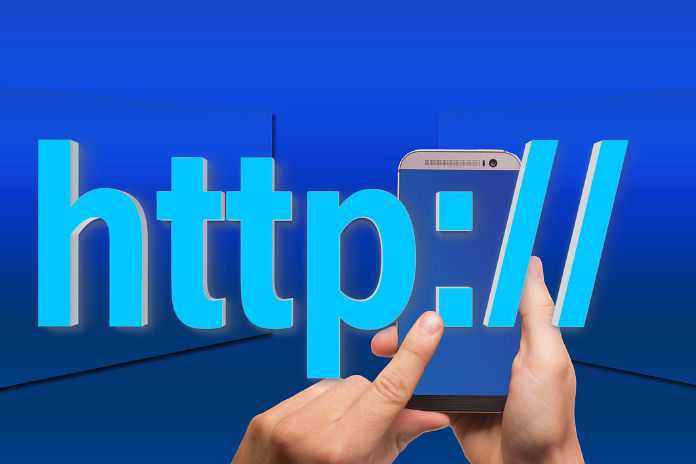 Honestly I am not a SEO guy or tech expert. Instead I find my realm in Spreadsheet solutions and data analysis. Still I find time to occasionally write inspirational articles and other tech tips on this site along with Spreadsheet tutorials. How I could mange it? The former is due to my pure passion to motivational quotes but the latter is as a result of the hurdles I faced in blogging. This time my tutorial is about how to switch to HTTPS protocol for free on your site. You can move from HTTP protocol to HTTPS absolutely free and earn the trust of your visitors as well as to get authenticity on your site. This tutorial is exclusively for WordPress users.
Before going to the tips on successfully activating free SSL certificate (Secure Sockets Layer) from CloudFlare, I have to clarify few things. Before that let me tell you one more thing. HTTPS is just HTTP over SSL. Now to the point.
Why I am still using HTTP protocol on this site?
It's a genuine question. You can check the address bar of your browser now and see as this site doesn't have any SSL certificate activated. The reasons are simple but you should know it from the SEO point of view. It turn around the below two points.
Should I use free CloudFlare SSL to Switch to HTTPS Protocol For Free?
The implications after Free SSL activation on my WordPress Blog.
After activating free SSL, you should again need to submit your new site to webmaster tools and submit the new sitemap. Also you should change the sitemap URL in robots text file. This may risk huge traffic loss for few days which we cannot predict as it's in the hands of the search bots.
The second and most important part is that the switching from HTTP protocol to HTTPS might break your site. It might happen when you are using or used poor coded themes or plugins on your site and their leftovers. It's a rare chance though. So the downside, if any thing undesired happen, you won't get the live support to sort out the issue from CloudFlare because you are own a free plan. But I found they are happy to assist you via mail ASAP.
If somebody is offering something free means there may of course plus and minuses. You should ready to embrace the consequences whatever the result is. So before moving to free HTTPS check online whether it is worth for you. Normally bloggers move to HTTPS to please the search engines and also a good nod to visitors if they have affiliate links on their sites.
Few more questions prior to Switch to HTTPS Protocol for Free. I think I should address the below question too.
I am using CloudFlare CDN but how to get their free SSL?
Please do note that if you are already using CloudFlare CDN on your site, the SSL is already active on your site and there are two versions of your site running. One HTTP and the other HTTPS. You might risk search bot ire in this case for duplicate content. I am not sure about this anyway.
Should I use W3 Total Cache to Work CloudFlare Free SSL?
There is a discussion on the internet that CloudFlare is well supported by W3 Total Cache caching plugin. It's true. Because in W3 Total Cache there is a plugin especially for CloudFlare. So you can use CloudFlare API to link both well. But it is not necessary to stick with W3 Total Cache. W3 Total Cache can address lots of your page speed related issues and really a speed booster. But it has lots of settings unlike WP Super Cache, its main competitor. Some theme developers as well as hosting providers advise to use WP Super Cache over W3 Total Cache plugin. But if properly set, W3 Total Cache is better than WP Super Cache.
Now to the steps to install free SSL on your site by your own to move from HTTP protocol to HTTPS.
How to Switch to HTTPS Protocol for Free
It's very easy to Switch to HTTPS Protocol for free using the CloudFlare service. Even novice bloggers can do it with ease. First you should activate SSL on your site.
How to Activate Free CloudFlare SSL?
CloudFlare is a content delivery network (CDN) provider which is one of the popular in its kind. The virtue is that you can use their CDN also free for boosting your site speed.
Unlike your sever, when you route through CDN the content will be delivered from different countries based on the users region. So it can speed up your blog.
Our step to Switch to HTTPS Protocol for Free is starting with free CDN setting. First you should sign up an account on CloudFlare. The detailed tips to enable free CloudFlare CDN, I have already written in another tutorial. Visit the below link first and and setup your CDN first. Then comeback here to continue with Free CloudFlare SSL setting without any issue. After that we can switch to HTTPS protocol for free.
Tutorial: Set up a Free Content Delivery Network CDN to Speed Up Your WordPress Site
Hope you have did everything as stated in the above tutorial perfectly and your site is running! Now how to successfully activate free CloudFlare SSL to move to HTTPS.
Steps:
1. Go to the Crypto settings on your CloudFlare account.

2. There you should make sure that your SSL status is active and the plan is Flexible which is free. It should be by default active.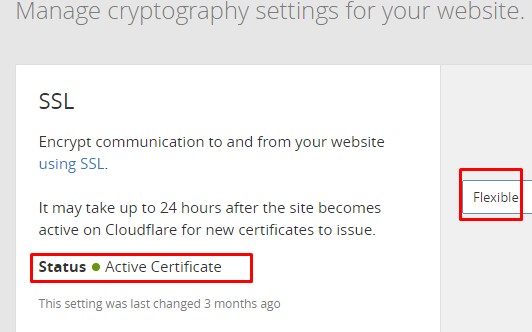 3. Open another tab on your browser and type your site URL on the address bar as "https://yourdomain.com". You can see it's working! But probably working two instances of your site. One HTTP version and the other HTTPS.
4. Now login to your WordPress dashboard and install and activate a free WordPress plugin called Really Simple SSL. Upon activation this plugin will normally detect SSL on your site. If it says there is no SSL present on your site and you are seeing the SSL active on your CloudFlare account some thing is wrong. My advice at this juncture is to please roll back the free SSL adventure on your site else you might end up in breaking your site. If everything is perfect within few seconds you will automatically be logged out from your WordPress dash board as you are already switched to HTTPS protocol.
5. Now one last step is pending. After that you are the proud owner of 'secure' site. Go back to your CloudFlare account and access Page Rules.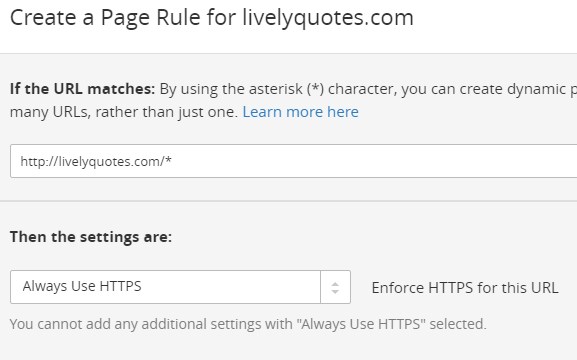 Please replace the domain with your domain name. Also I request you to check this official CloudFlare tutorial to know more about page rules and set your proper Page Rules. Logout of CloudFlare and on your WordPress purge all catches.
Your site is now running on HTTPS protocol! Check with your android, iPhone and different web browsers that your site is running without any issue or warning.