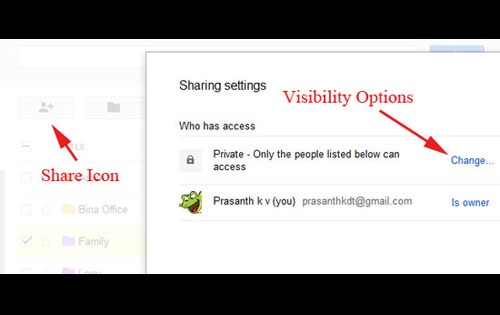 I am one among the lucky people who got access to Google Drive immediately after its launch. It's because just moment after the launch, I have tried it. It was midnight here in India when Google Drive went live. I had got the clue about the launch. So I was eagerly waiting for it. I think as of now many of you may have already got access to Google Drive and began uploading your photos, docs etc. to it. Storing your files to cloud storage has many advantage. You can work on your cloud stored files with a distant person or share a photo or something else with your friends or family easily. Just need to send the file link to them for this purpose. We can learn here how to share Google Drive stored files properly.
But one must know how to properly share cloud stored files with others. Here I'm detailing the procedure to share Google Drive stored files or folders with others. It's just simple but one must know how to fully utilise this feature.
How to Share Google Drive Stored Files Properly?
Below are the steps involved in properly sharing Google Drive files.
Steps Involved in Sharing Files or Folders Stored in Google Drive
Go to your Google Drive on the Web.
Select file or folder to share (make tick mark against the file or folder which you want to share).
Click the share icon (refer screenshot below).
It will open the Share settings. You can change the visibility settings here. Click on "Change" for this purpose.
There are three Share settings available. They are  Private, Anyone with the link or Public on the web.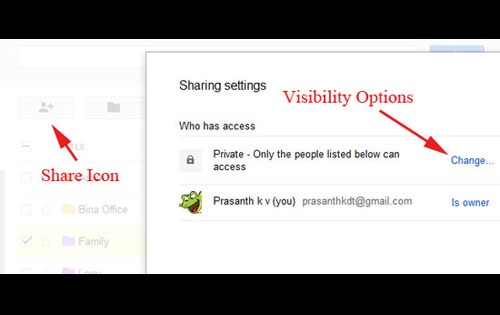 Private : Share the Google Drive file or folder with people you added using their email ID.

Public on the Web :  This means anyone on the internet can find and access the file. You will also be provided with a file link to share. You can also use this link to share your document.
Anyone with the Link : This option will provide you a link that you can use to share the file.
In the all above three cases you can set the access level. That means allow the person at the other end to only view your files, can comment, or edit.