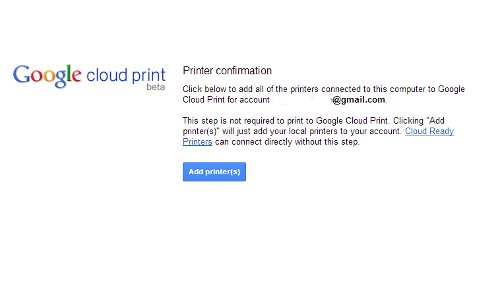 Google Cloud Print is a marvelous piece of technology that many of us never tried. It is just under estimated. Wake up and get ready to use the wonderful cloud printing. Some of us get confused simply hearing the name "Cloud" associated with the printer. We think that it is complicated. In real sense, Google Cloud Print is so simple to set up. Anyone with basic computer and browsing knowledge can easily connect their printer to Google Cloud Print and do their print job wirelessly.
How to set up the Google Cloud Print? Follow the below steps. You can effortlessly connect your any printer to Google Cloud Print. It is not necessary to use a network printer. I tested the Google Cloud Print service using my Classic printer. It is simple and amazing. The advantage of Google Cloud Print service is that you can wirelessly print to your printer from any part of the world over the internet. In this tutorial I will explain you how to set up the Google Cloud Print on your Windows PC. The Google Cloud Print set up on android will follow up.
Requirements
The Printer must be connected to your desktop / laptop computer and printer driver must be installed and working. Working means you can print to your printer from the connected PC.
Active interconnect connection on the computer where you connect the printer.
Google Chrome Browser.
Google Account (Gmail account)
How to Set Up Google Cloud Print
Login to http://www.google.com/landing/cloudprint/
Set up Google Cloud Print Using Cloud Ready Printer
Click button labelled "Add Cloud Ready Printer". The advantage of Google Cloud ready printer is that there is no need for you to connect it to a computer. Select the Printer manufacturer name from the list. You can see the supporting model. Follow the instructions there as it varies based on the printer manufacturer. If your printer model is not listed it means your printer is not cloud ready. Yep! This way you can ensure that your printer is cloud ready or not.
Set up Google Cloud Print Using Any Printer / Classic Printer
This step I've tested using my non cloud print ready printer. It works like a charm. Simply follow the below steps to set up the Google Cloud Print to a Classic Printer.
First login to your Google Account.
Go to Google Chrome Menu and select "Settings"
Go to the bottom of the settings page where you can see a link "Show advanced settings". Click on it.
Now go to the bottom of the advanced settings page. There under "Google Cloud Print" you can see a button labelled "Add printers". Click on it.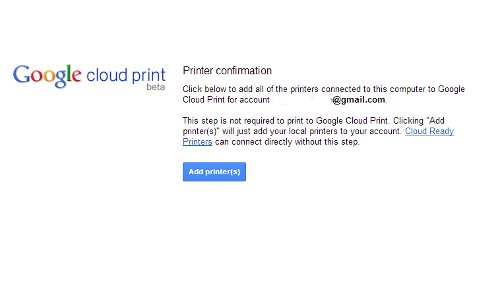 Again click the "Add printers" button to add the available printers to cloud print. To see the printers added to Google Cloud print on your computer simply click the link "Manage your printers".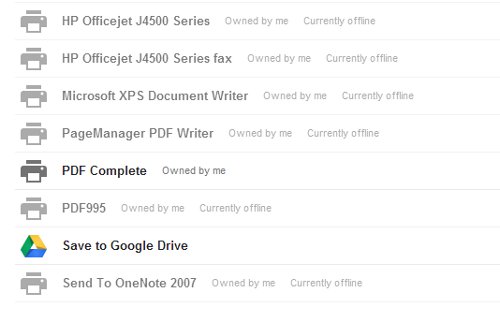 How to Print to a Cloud Print Connected Printer.
Now you have successfully connected your printer to Google cloud print. Also you can say you have installed Google Cloud Print on your PC. Now onwards you can send print to this printer wirelessly that is over the internet from any part of the world. But you should meet the following requirements.
Your printer must be turned on. If it is a classic printer, it must be connected to the PC and your PC and printer must be in the on mode.
You must sign into the same Google account on Google Chrome to send a print to the cloud print. You can print any doc, txt, pdf, jpg, jpeg file, Gmail e-mail, mail attachment or Google Drive files using Google Cloud Print. From anywhere on the web on Chrome, directly apply the Shortcut Keys Ctrl+P. Go to the bottom side of the print options. There you can see a link "Print using Google Cloud Print dialog". You can use this option to send a print job to your printer connected to Google Cloud Print.
Hope you enjoy this tutorial to connect your printer to the cloud. It is just simple. Also you can share your printer with your friends. To that go to the "Manage your printer" option mentioned above.
You are away home. Send the vacation photo to your printer in your home through Google Cloud Print. You are away. Still your printer hears your call and wake up and do the printing for you. It's amazing! Something touching, really.