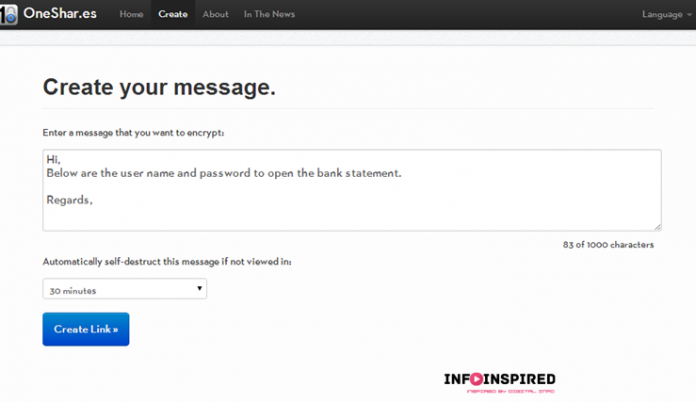 As you are aware that it's not secure to send confidential messages that include passwords, log in details, account information etc. via Email, IM or Facebook. But there is a way to send confidential information securely via these services.
Leaking of any types of information that you may think harmful to you should be sent carefully via Email. If your account is compromised, a third person can quickly access your Inbox and harm you in several ways. It may result loss of money to you or you may become a victim of blackmailing.
So send confidential information securely via email or any so called social networks. Sending confidential messages in an unencrypted form is no way secure. So here I'm providing you some best practices to send a confidential message via Email, Social Networks such as Facebook or other IM services.
When I first decided to write this article regarding how to safely send confidential information via Email, my primary concern was that this article should be useful for my all readers. Keep this in mind I've provided here two different methods to ensure the safe sending of messages online.
Tips to Send Confidential Information Securely
You can ensure the privacy of your messages sent via Email, Facebook or IM by encrypting your messages at your end before sending or by sending a safe link of your messages that is encrypted and auto expires at a predefined time or after first use. It's tricky.
By this method to send a highly confidential message via email or any other messaging services will only take few seconds. No technical know how is required for this. Then how? Follow the below tips.
Methods to Send Confidential Messages Via Email, Facebook or IM
By Creating Secure Links to Your Message and Sending the Links Instead of Message
There are two services that offer a safe way to send your messages. They are Oneshar.es and Due.im. Here you type your message (or copy paste a pre typed message) in a given box and the services encrypt the message for you. You will be provided with a unique URL that you can share via your Email, Facebook or any other messaging services. To further deepen the protection level you can add some security features. It varies in both these services.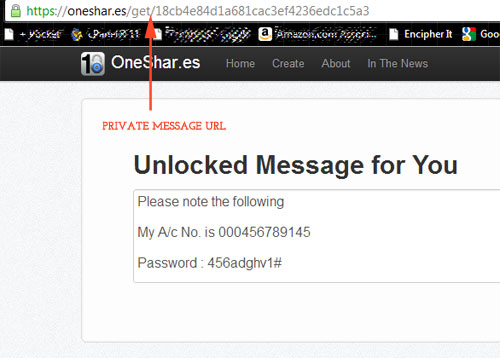 In "Oneshar" your created message will automatically disappear from the recipient's Inbox once he/she open and read it. So that you can ensure that the message is no longer available in his Inbox. The message itself is secured with encryption. Also you can choose whether to auto delete the message if the recipient did not open it for some specific hours or days.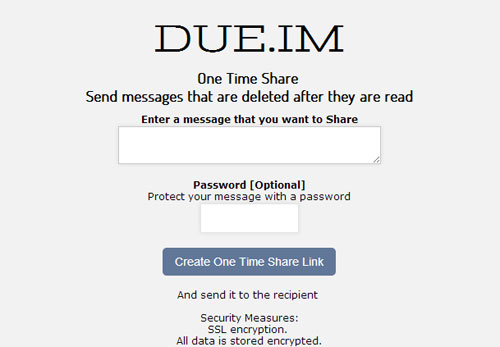 "Due" is a similar service. But here for added security you can add a password to the protected message. You need to provide the password to the recipient of your Email to open the message.
In "Oneshar" I could see it preserves the format of the message. It's not possible in Due[dot]im though it's not important. The message limit is set to 1000 characters in Oneshar[dot]es but not mentioned in "Due".
How to Encrypt Your Message with One Click
If you prefer to encrypt your message at your end other than providing a self destructive message link as above, try Encipher.it.
Type your message and encrypt it with just one click of a button (detailed in the next para). During encryption you are required to provide a password. The recipient will get your message as regular mail/message but in an encrypted form. He needs to decrypt it. He can also do it with just one click. For that you have to provide the password to him.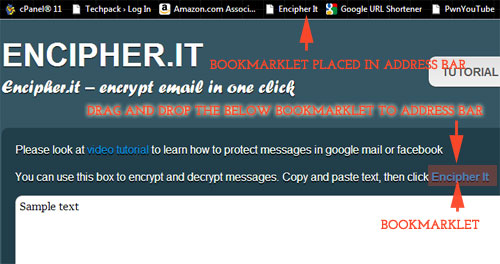 How to Use Encipher[dot]it to Encrypt and Decrypt Messages?
Update: Skip Encipher as we no more recommend it.
You want to ensure the privacy or confidentiality of your message, right? Then visit Encipher. It and add a Bookmarklet to your browser's address bar. Go to the Encipher homepage and drag and drop the "Encipher It" Bookmarklet to your address bar (see the above screenshot). It works better on Firefox and Chrome. Now the message part.
As usual type your message. After that click the newly added Encipher It button. It encrypts the message with a password. To open the message your recipient also needs the same Bookmarkelt on his browser and the password set by you. That's all.
The above two are the two different ways to send confidential information securely online. Hope you liked it. I wish to hear your thoughts in this regard. So do post in comments.