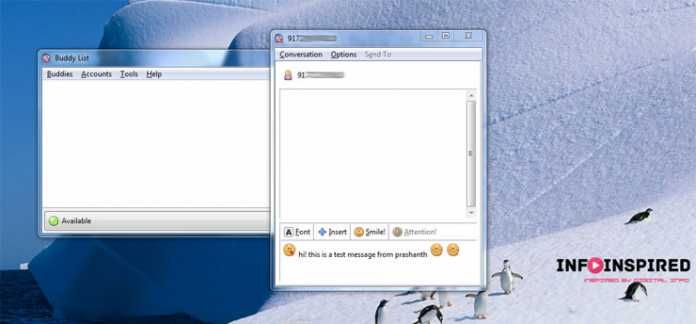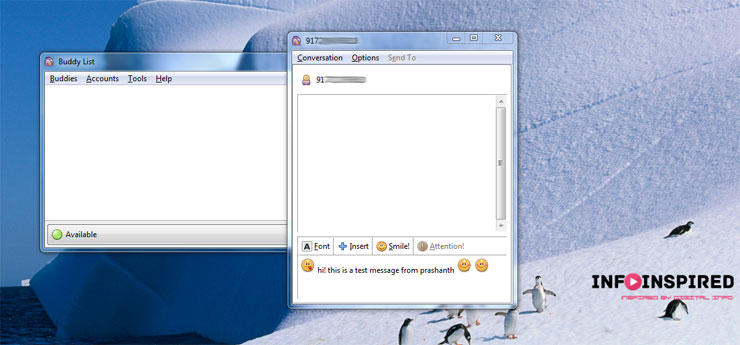 WhatsApp is a quintessential messaging service that conquered the mobile messaging platform. It's a lightning fast messaging service that supports text, voice, image and video messages. The popularity is phenomenal. This mobile messaging service has no official desktop app like some similar services. But you can use WhatsApp on your Windows desktop using a multi-platform instant messaging client called Pidgin. Pidgin has no inbuilt feature to use WhatsApp. But we can install WhatsApp plugin on Pidgin and smoothly send and receive messages using WhatsApp. It's awesome anyway.
I am already using WhatsApp on my smartphone. Still I wish to use WhatsApp on my desktop using my another number. The number is active and I am using it on an outdated model phone, simply because it provides longtime battery back up.
Whatever the cause we can learn how to install WhatsApp on a Windows PC. All the steps are detailed with screenshots to make your WhatsApp desktop installation journey a success. Try this ultimate WhatsApp for Windows tutorial.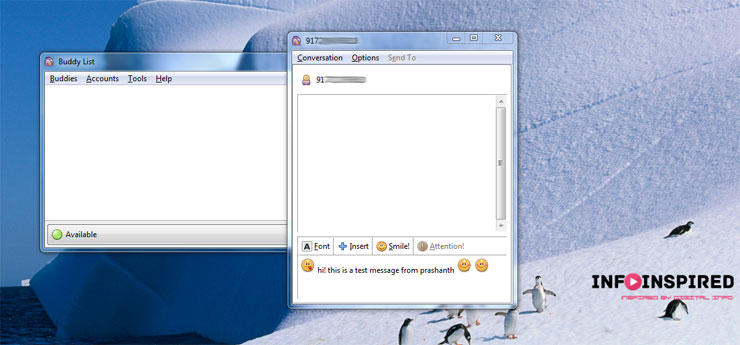 Step 1
Download Pidgin and Install it.
Now you need a third party plugin for Pidgin. You can download it from HERE. Just copy the latest "last-whatsapp.dll" file in to Pidgin's plugin directory on your computer.

Copy and paste the downloaded content to the Pidgin's plugin folder as below depends the installation folder.
C:\Program Files\Pidgin\Plugins
Step 2
Get the latest version of WART executable file from GITHUB file repo. Here is the download link.
https://github.com/shirioko/WART
You can find the .zip file download. Extract the file and run the [dot]exe file.
Enter you phone number with country code and leave the password field blank and click "Request code". You will instantly get WhatsApp verification code on your phone via SMS.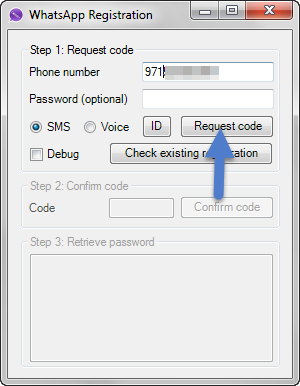 Enter the WhatsApp verification code you just received in the "Confirm code" section. You will get a password as below. Copy it and close the window.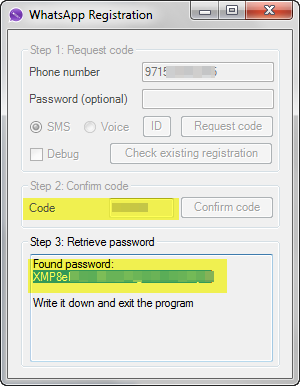 Step 3
Run Pidgin. It will automatically launch user account setup wizard. Else you can access user account set up wizard from Accounts > Manage Accounts > Add.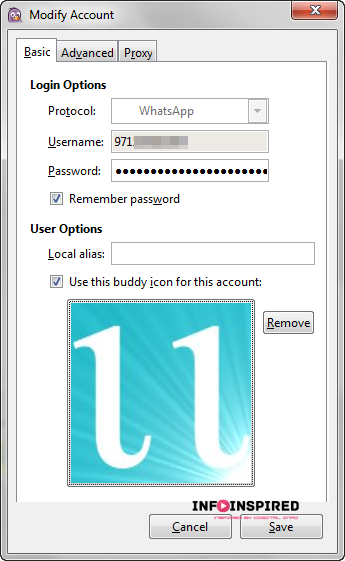 In the  "Add account" window use WhatsApp as protocol, your phone number with country code, without "zero" or "+" prefix, as user name and password, use the password you created and copied in above step 2. Click "Add". (The above screenshot is slightly different as I've edited the account for putting logo. So you will see "Modify account" instead of "Add account" and "Save" button instead of "Add")
Step 4
We have now successfully added WhatsApp to Pidgin. If everything goes fine, you will get a blank "Buddy List" as below. Else you will get error messages like;
pidgin Lost connection with server (out cb): Bad file descriptor
server closed the connection
How to resolve the above Pidgin issues while accessing WhatsApp on PC. The first issue arises mainly because you are using the outdated WhatsApp plugin which you downloaded in step 1 above. Check the date of release of plugin and download the latest one.
The second issue, i.e., "server closed the connection" may occur due to wrong username or password used in step 3. Carefully check the username, i.e., your phone number. It should not contain "+" symbol. Your number should be like;
If your are from India "9172xxxxxxxx" or from UAE "971528xxxxxx". The password you copied may contain preceding or succeeding space characters. Check it properly.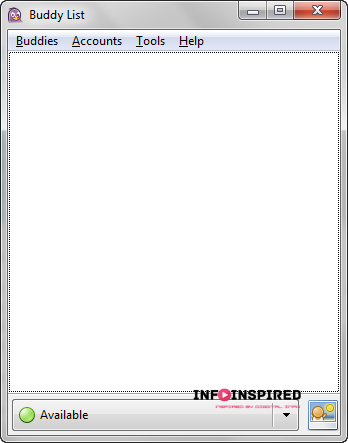 Step 5
We are ready to send WhatsApp messages from PC. You can instantly send message from Buddies>New Instant Message or use shortcut key Ctrl+M. Type the number whom you want to send message on WhatsApp right on your PC! You can insert smileys in chat.
Hope you can now successfully send and receive instant WhatsApp chat messages on your Windows Desktop.