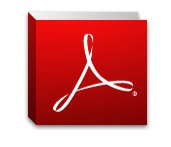 This tutorial is only applicable if you know the password of the PDF files. By following this tutorial you can successfully delete the passwords from PDF files.
There are several instances where someone want to remove passwords from protected PDF files. Sometimes you want to remove the passwords from PDF files to forward it to someone or delete the password to make the file opening process hassle free. Whatever the case, you many not find any inbuilt tool for this on your PDF reader.
When you try to open a password protected file on Adobe Reader, you will find a message like this. ' your file name' is protected. Please enter a document open password.
To delete the password protection from such PDF files, you need a tool. There is a simple tool available to remove the PDF file protection offline. It's free and reliable.
You can simply remove the password from PDF files without going online. Follow the below steps.
Steps:
Download the tool BeCyPDFMetaEdit
Run the "BeCyPDFMetaEdit.exe" file.
It will ask to you to open the file of which the password you want to reset. Select the file and also select the option "Complete Rewrite" and "Open".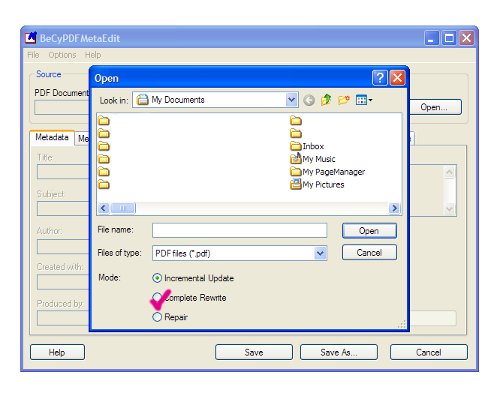 Now enter the password of your file when ask and click "OK"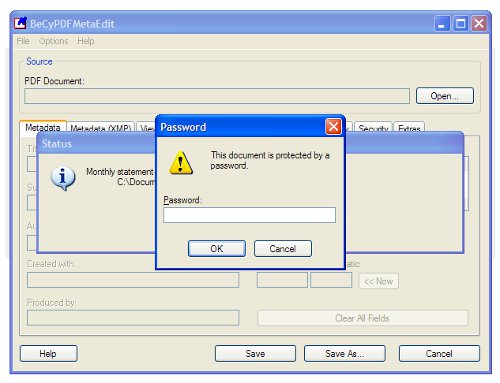 Now go to the "Security" tab and set the security system to "no encryption"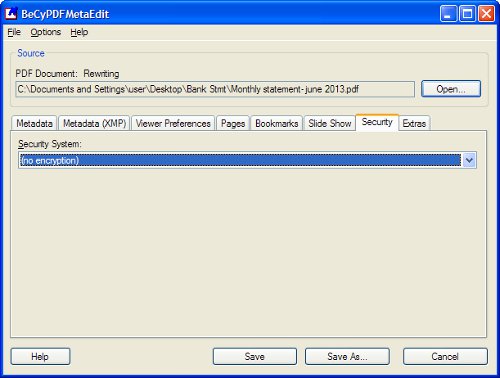 Then save the document. You will be greeted with a message saying "your active document…..updated" Click "No" and close the window.
The password of the selected PDF file is removed. This way you can permanently remove the passwords from any number of PDF files.