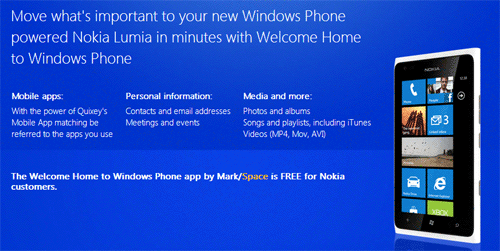 The patent war between Apple and Samsung was a hot topic for newspaper columns for the last few days. The ongoing legal war got a new twist after the US court verdict against Samsung. Whatever the news there is of course some frustrated Android and iPhone users though the patent war has nothing to do with it. Some people bored with their current phone and may want a change. For them the only alternative mobile Operating System is Windows Phone. Now there is an app that help you to quickly switch to Windows Phone from Android or iOS.
When we think about Windows Phone, the first brand come to our mind is Nokia with their stylish Lumia Windows Phones. If anyone wants to make a switch to Windows Phone, especially to the Nokia Lumia, here is a cool desktop application from Markspace. The application named Welcome Home to Windows Phone is compatible with Windows and Mac OS. It helps users to switch to Windows Phone with all their contacts, calendar and apps from their old phone easily.
Welcome home is a free app for Nokia Lumia users to switch from Android, iPhone or Blackberry. With this app you can full setup your new Lumia Windows Phone with your apps, musics, calendar, photos and videos. Welcome home first transfers these contents from your old phone to Microsoft Live and then to your New Windows Phone.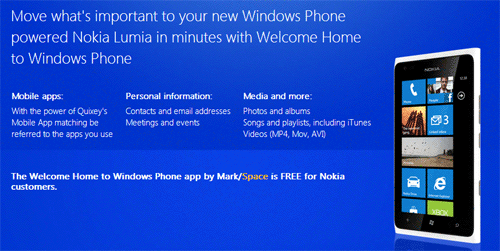 How to Use Welcome Home to Windows Phone for Setting up Your New Lumia with All Your Old Phone's Data
Download the application from Here and launch it.
Plug in your current phone via USB to your computer.
Let Welcome Home to scan your data.
See your results.
Check your app recommendations and install the apps using QR code.
Enter your Microsoft Live account credentials. That data extracted from your current phone by the above method will be copied to your computer.
Finally, using Zune or Windows Phone Connector for Mac, move your data onto your new phone.
All these will take only a few minutes. Share this.