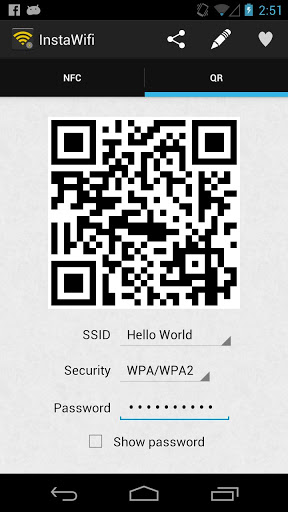 On so many occasions you may want to share your WiFi network with your friends, family members or colleagues. To do this you need to share your WiFi password with them. You can share your WiFi without sharing the password verbally or in written. Yep! Just generate a QR code one time and allow them to scan it whenever they want to quickly connect to your WiFi network. With the help of two awesome android apps, both are free, you can quickly share your WiFi network with your family and friends. There is no need for sharing the long passwords with them. Generate a QR code and allow the person, to whom with you want to share the connection, to scan it. The advantage is that you can share the QR code with any Android device on which a QR code scanner is installed. But be specific. Only to share it with trusted persons like your friends or family. Why? The QR code generated has your WiFi password embedded on it.
How to Quickly Share or Connect with a WiFi Network on Android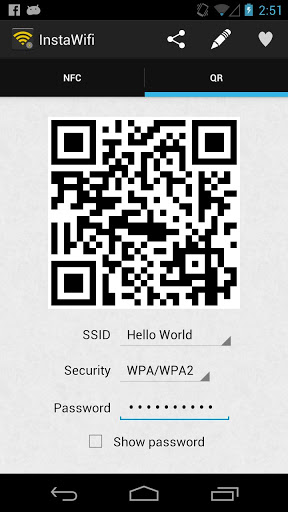 Steps:
Install InstaWifi on your Android phone to generate QR code.
Ensure that your friend has installed a  Barcode Scanner on his or her device.
Open the app InstaWifi on your device and tap on QR.
From the popup choose the corresponding SSID for your wireless network as well as the type of security used on that network. In the password field enter the password.
Close your keyboard to automatically generate the QR code.
You are set! You can now share the QR code with your friends. Simply email them or allow them to scan it.
Hope you liked this tutorial on quickly sharing WiFi on Android. Share it with your buddies.