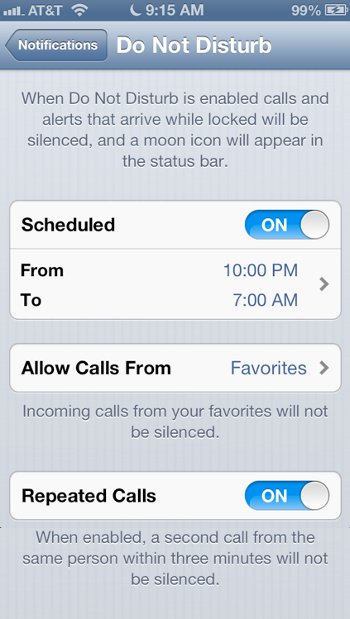 Do Not Disturb sounds great when you are in a mood to sleep. Tell your iPhone not to disturb you while you are sleeping. Silence notifications and phone calls on your iPhone automatically. It is an intelligent feature on your smartphone. Why? Because it not only silence notifications and light up etc., but when needed it intelligently alerts you. For example you can schedule do not disturb time on your iPhone. Also you can allow certain people to disturb you with calls and repeated call setting is also there. Before coming to the Luna tweak, yep! that is the name, which allows you to turn on and off do not disturb feature from the lock screen of your iPhone, we can see how to manually enable this feature on your phone.
How to Turn on and Turn Off Do Not Disturb on iOS 6 Manually
Do Not Disturb without Tweak
To enable this intelligent iOS feature go to Settings->Do Not Disturb.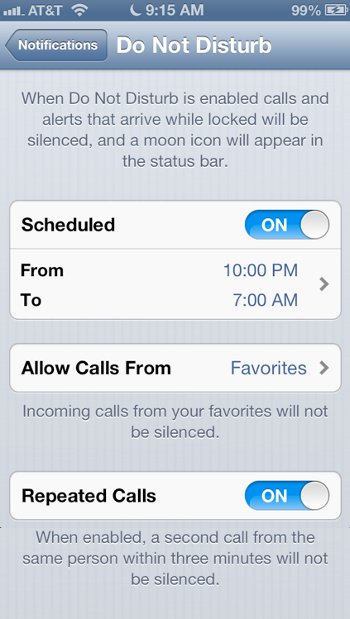 How Should I Know Do Not Disturb is Turned On
Check the "moon" icon in the status bar.
How to Turn On or Turn Off Do Not Disturb Feature From the Lock Screen Directly
Do Not Disturb with Tweak
There is a tweak available for jailbroken iOS devices using evasi0n. This tweak is called Luna and now available in Cydia for a two bucks. This tweak lets you turn on / off Do Not Disturb directly from the Lock screen of your phone or from the Notification Center. You just need a simple pull down gesture to do that. Further, when your device is unlocked, you can see non intrusive banners notifications.
Make your iPhone more intelligent with this simple tweak. Worth to the price, right?