The release of BBM is a big hit on both iOS and Android mobile platforms. Passing 10 millions download milestone in the first 24 hours after its release, BBM is going viral on both iOS and Android. The reason of the popularity may be due to the migration of Black Berry users to Android and iOS in the recent past.
As you already know BBM is a free messenger service with some unique features. Earlier it was only available on BlackBerry devices. The cross platform availability of this app gives way to start a new discussion on tech forums as well as on tech blogs. People started comparing BBM with WhatsApp. The latter is the already popular messenger service on Android and iPhone, but only free for the first one year use.
As already mentioned above, one of the unique features or the main thing that differentiate WhatsApp with BBM is the PIN number in the BBM. It is the unique feature in BBM messenger that you can use to restore BBM on other devices, add contacts and block contacts etc. BBM PIN is a unique identifier that gets created when you first create an account on BBM. You can find your BBM PIN on your Android or iPhone in the following way.
Two Ways to Quickly Find My BBM PIN
Open your BBM app on Android.
On the home page of the app tap on your profile picture or name.
See the PIN number there. You can share this PIN number to get invite from friends to add them.
You can also find your PIN number through another way. Tap on the Contacts >Invite to BBM > Invite by SMS. There you can see the BBM PIN in the message body.
How to Quickly Add Contacts to My BBM
Unlike other messenger services that migrates your available phone contacts in their contact list, BBM uses a different method. Users have to send invitation or share their unique PIN number to get invitation to add or get added.
To quickly add new contacts to your BBM contact list, tap on the contacts and tap on the "Invite to BBM" button. Choose any of the given method to add new contacts.
If you wants to add a nearby friend or colleague to your BBM contact, tap on the "Invite by Barcode Scan" option. Make a note of the "Show my Barcode" button at the bottom. Either you show your BBM Barcode, or let your friend to show his BBM Barcode. Scan either of the one.
Other available options are;
Invite by SMS, Invite by Email and Invite by PIN. When you send or receive a BBM message invitation, click on the link in the message to add new contact or get added.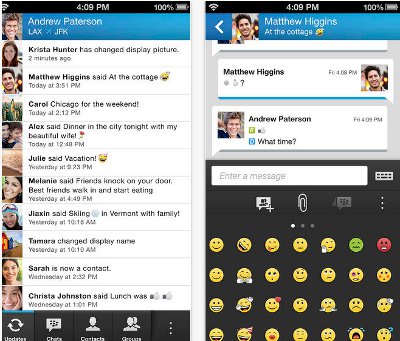 Started using official BBM on your Android or iPhone? Then share with us what you feel.
Download BBM on Android or iPhone for free!