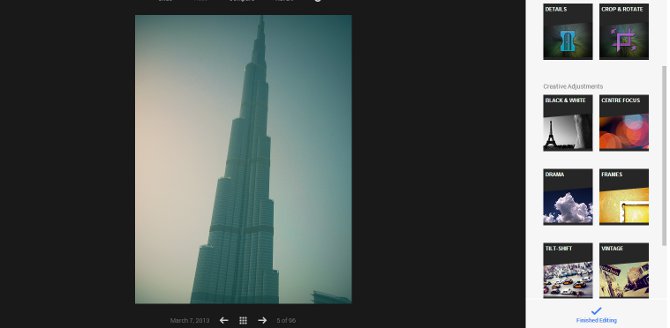 Google Plus, the modern social networking service, includes a mind blowing photo editing tool. Never tried? Then check it today.
Google Plus got much appraise from the media for its wonderful photo editing capability. This photo editing feature makes Google Plus the best online place to store your photos. But most of us use another Google Service, Google Drive, to store our photos and take it wherever we go. Upload your photos to Google Drive, install the Drive apps on your Smartphone as well as on your laptop. Then make some of your favorite photos offline. See it as and when you required even without an internet connection on your phone.
Though you can edit your photos stored in Google Drive with third party Chrome apps, Google Drive lacks the power of Google Plus photo editing. See this article for more details about third party Chrome apps and editing photos stored in Google Drive with them.
In this tutorial we can see how to edit photos stored in Google Drive Directly within Google Plus. The process is simple. You just connect your Google Drive with Google Plus from here. Click "Show Drive photos in Google+". This connects Google Plus with Google Drive. If you don't want the connection, go to the settings page of Google Plus and look for "show Drive photos in your photo library" under Google Drive and make it unchecked.
The new bridge makes all your Google Drive photos appear in Google Plus. The Drive photos thus made available on Google Plus will not be visible to others unless you share them. You can identify Google Drive photos in Google Plus from the Drive icon with the photos. Click on any photo and edit it with the wonderful Google Plus photo editor.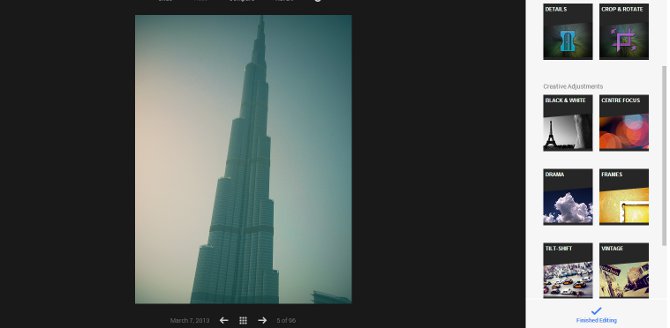 The photos thus edited will be saved to Google Plus, not to Google Drive. Means the Google Drive photos edited using Google Plus will not make any impact on the original file kept in Google Drive. So if you want to use the edited photos, download it.
If you like the Google Plus photo editor you can try the above method. Edit your Google Drive photos in Google Plus. Share this article, if you like Google Plus photo editor.