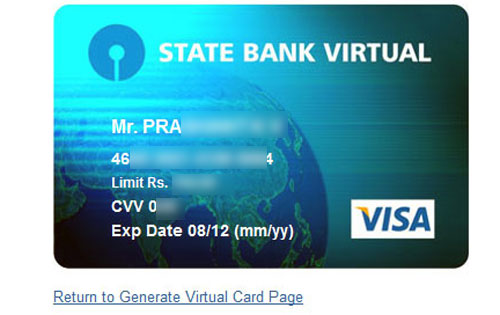 Quite recently I've written a how to guide elaborating the steps involved in making Virtual Credit Card. It was about HDFC NetSafe. This time let us take a look at how to create State Bank Virtual Card.
I wrote about HDFC virtual cards earlier because I am a fan of HDFC NetSafe as it helps me make my foreign payments from India without a Credit Card. I meet my hosting charges, this site is hosted on HostGator (U.S), and other site running expenses using NetSafe. Also Virtual Credit Card (VCC) is the safest way to make online transactions.
You can either use your debit card or Credit card to make VCC online. If you are new to VCC first go through the guide Virtual Credit Card or VCC – An Alternative Credit Card Online Using Debit Card.
Couple of days back State Bank of India (SBI) launched their Virtual Card service in India called State Bank Virtual Card and now it's active. SBI Virtual Card or e-Card is standout from others with its easiness and features but has some limitations too. Before going to steps on how to create State Bank Virtual Card we should check the limitations first.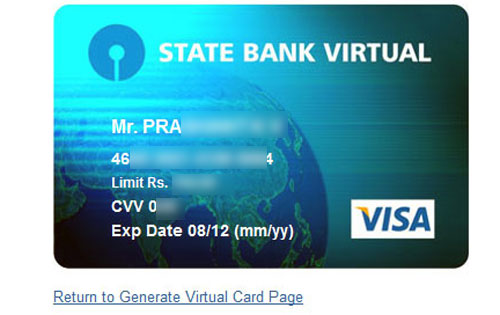 Can we make international payment using SBI Virtual Card?
Nope! It's not a Virtual Credit Card or VCC.  It's a limit Debit Card created for ecommerce transactions. SBI only allows you to make domestic payments using its Virtual Card. It's valid for payments in India, Bhutan and Nepal. That means it's not suitable for many bloggers like me. It's a main disadvantage of SBI VC. The main advantage of SBI VC is that you only required an online SBI account for this purpose. And the VC creation and cancellation is pretty simple. No need to create a separate account for this purpose. Just log in to your online SBI account and within seconds you can create an SBI VC and make extra secure payments online. Another advantage of SBI Virtual Card is that you can make unlimited number of VC's per day that is not possible with HDFC NetSafe. I only compared SBI VC with HDFC VCC as I'm using both of it. The SBI VC amount is limited to Rs. 100 – Rs. 50000 and card type is VISA.
How to Create State Bank Virtual Card – Steps
Now the steps to create SBI VC. Creating SBI Virtual Card is very simple.
Sign in to onlinesbi.com.
Click on the tab "e-Cards" and enter amount in the field. Virtual card limit is minimum Rs.100 and maximum Rs.50000.
Make tick mark against "Agree terms and services" and click "Generate". SBI will ask you to verify the entered details. Again click "Generate".
You will get a high security one time transaction code on your registered mobile number. Enter it using the virtual keyboard. Your first State Bank Virtual Card is ready.

Cancel State Bank Virtual Card
Cancellation of SBI VC is also easy. Log in to your Online SBI Account and go to e-Cards. Click on the tab "Cancel Virtual Card". There you can see the list of unused Virtual cards. Select the one you need to cancel and hit "Cancel" That's all.
Hope you liked this how to article. Share the news.