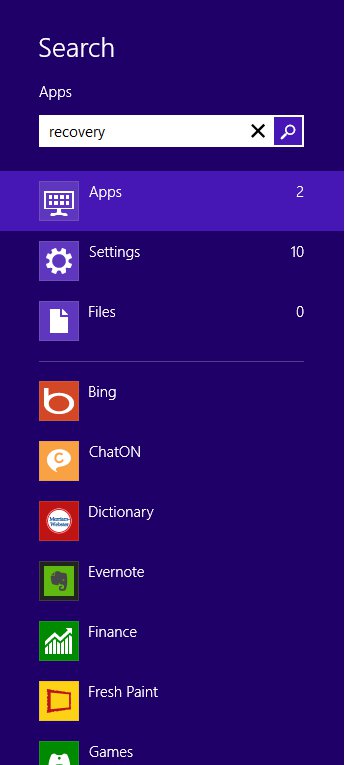 What is the first thing you have to do with your brand new Windows 8 PC? It is creating a recovery disk. A bootable Windows 8 recovery too is essential. What is the use of creating Windows 8 recovery disk or tool. If your Windows 8 laptop failed to boot, you can use this recovery disk to boot your computer. After booting you can access the useful Windows 8 recovery environment where you can refresh or rest your PC to a stable working stage.
Windows 8 users will get the free Windows 8.1 update which is fast approaching. So before installing the update as precautionary measure keep this recovery tool.
Now let us see how to create a Recovery Disk on Windows 8. It is easy. You can either use a USB Flash Drive or a CD/DVD to create your Windows 8 Recovery bootable media.
Where Can I Find the Option on Windows 8 to Create a Bootable Recovery Tool?
On the Windows 8 Start Screen directly type "Recovery". No need to click anywhere. It will take you to the search directly.
Under the typed word again under "Apps" you can see "Settings".
Click on it.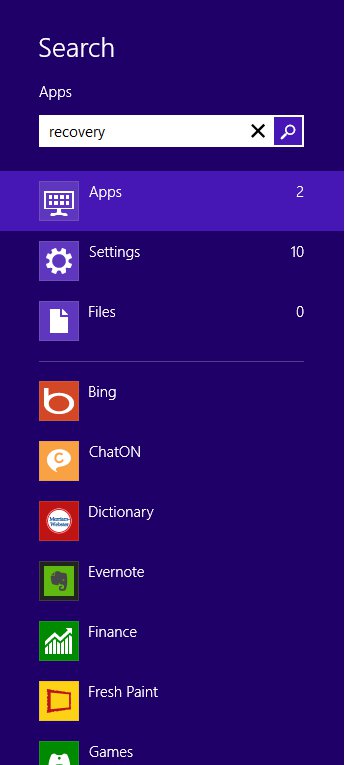 On the search results you can see "Create a Recovery Drive". Click on it.
You will get a prompt similar to the below screenshot. Just remove the check mark against "Copy the recovery partition…….." and then click Next.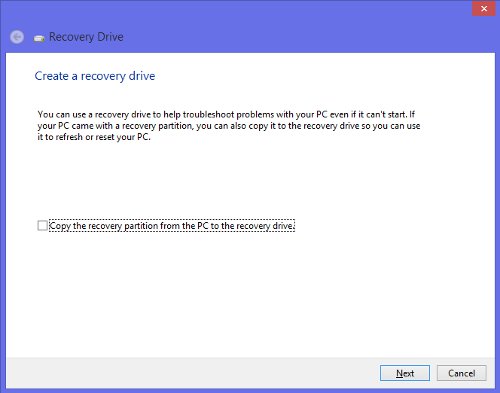 Immediately you will prompt to connect a USB Flash Drive.
We are using DVD to create a Windows 8 recovery disk. For that click the link at the bottom of the Window shows "Create a system repair disk with a CD or DVD instead".
Insert CD/DVD and click "Create Disk"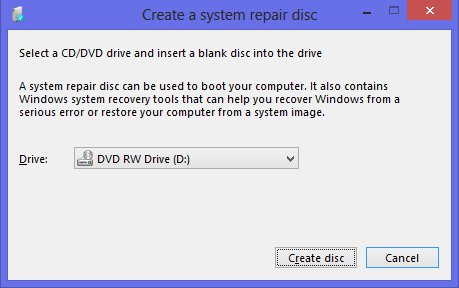 It will take only few minutes to create your Windows 8 recovery disk. After completion of the creation of Recovery Disk, the content of the created disk will opened. The content will be as follows.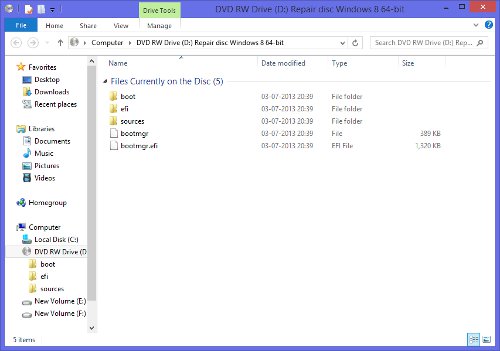 You can close this Window. Next you can see a prompt to label your disk with like "Repair disk Windows 8 64 bit". Close that Window too and click "OK" to complete the steps.
Your bootable windows 8 recovery disk is ready. Keep it in a safe place.