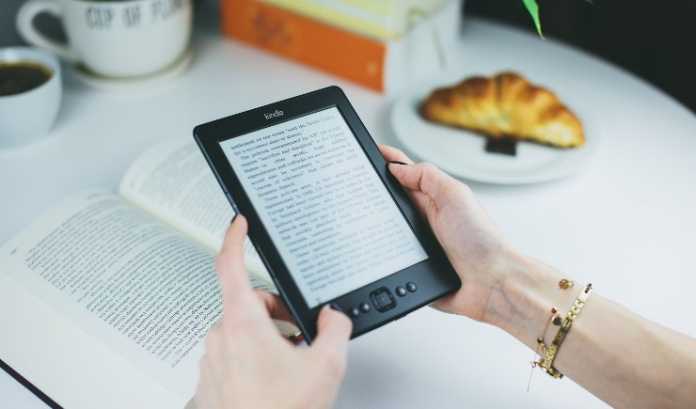 It's quite easy to create and publish Kindle Paperback and eBook by your own. This step by step guide will help you to create and publish your first Amazon Kindle eBook and Paperback with ease. In this post we will look in to the aspects of creating and publishing your first Kindle eBook as well as Paperback. But before that few lines about your first effort.
If you are thinking that you can sell your first Kindle book like hotcake and make millions of money, I'm sorry to say that you are in a fool's paradise. Unless you are the author of any best sellers, you can't make any big effect in the selling of your Book online.
It takes lots of marketing effort to reach buyers online. But if your name is popular as an author or by any other reason, you can sometimes make some hype about your book and sell some copies. Still marketing has an important role to play.
If you have a good website with lots of search traffic, you are lucky. You can market your book effectively with a landing page on your website and sell some copies. Publish 3-4 eBooks with limited pages and market it through your website. So that you can earn some part time income.
I'm not demotivating you by saying these. What I meant to say, don't expect much from your Kindle book. So think how much effort you have to put and devote the time accordingly.
We are not going to the marketing side of selling eBooks here. Just few lines as you are going to devote your time to create your first kindle eBook.
We can learn how to create and publish Kindle eBook and paperback online. For both eBook and Paperback, we need to create only one file.
There are three major steps involved in creating and publishing a Kindle Book.
First be ready with the hard copy of your Book. I mean to say make the content of your eBook ready in any format, whether it's hard copy, [dot]pdf or even a draft document or blog posts collection.
Access to Computer where Microsoft Office Word is Installed.
Internet Connectivity.
If you are ready with the first point let us begin.
Important things to know in creating your Kindle Book using Microsoft Word. In this tutorial we are learning to create your Kindle Book with the help of Microsoft Word editor.
Insert page breaks when you start a new chapter or at the end of each chapter.
Start a new line or paragraph with Shift+Enter.
Font size and font.
We will look into the above in detail below.
First open a new document.
Enable paragraph mark and other hidden formatting Symbols. So that you can check whether you have inserted page break at the end of each chapter and how you start new lines.

What Paper Size is ideal for Kindle eBook or Paperback?
Set paper size to "Letter". It's available under "Page Layout" menu. Any other paper size will do. But stick with the paper size I just mentioned because we are creating a single document suitable for eBook as well as Paperback.
What Font and Font Size is ideal for Kindle eBook or Paperback?
Set font to "Times New Roman". It's available under "Home" menu. For page heading my suggested size is 18. For paragraph and other content, it's 12.
What other things to be taken care of?
You should know how to create a table of content in Word with Links. We have a detailed tutorial that will help you to create a table of content with links to chapter. Its just a child's play.
How to Create Clickable Table of Content in Word?
Now Step by Step Procedure in Creating Your First Kindle Book.
How to create your Kindle eBook?
First Page:
The first page of your book is for book title. It will look like the screenshot below. Suggested font size is 24. Between the title and author name you can see a symbol repeated thrice. The symbol appears because we enabled "paragraph mark" as mentioned in the first part of this tutorial. I entered new lines between Book title and author name by hitting the Enter key thrice. After the author name use keyboard shortcut Alt+I+B to make a page break. Same keyboard shortcut you can use to make section breaks. Page break is OK for us. But if you want to enable headers to show some  text, consider section break. So that you can show different header in different section. No header? Just insert page break.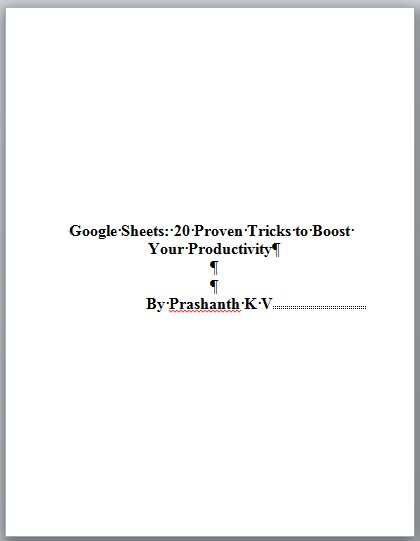 Similarly create the second page which contain your copyright policy.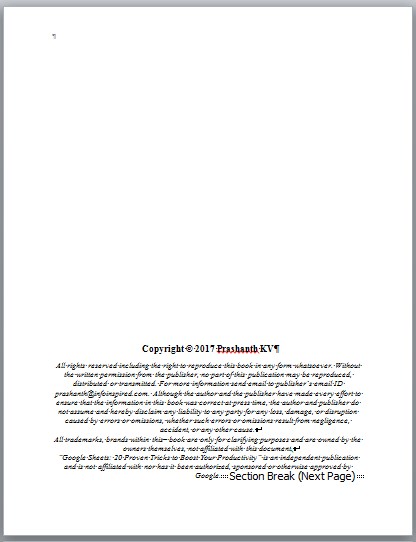 The third page contain "Preface"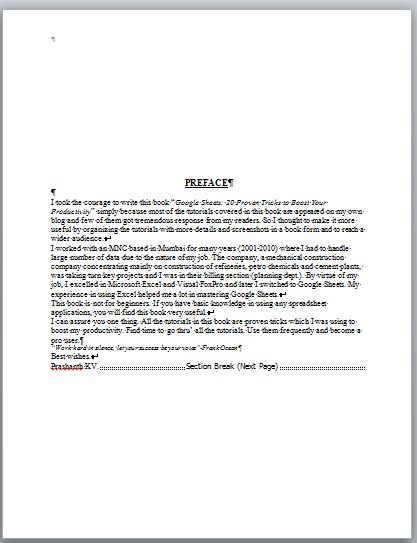 The fourth page "Table of contents"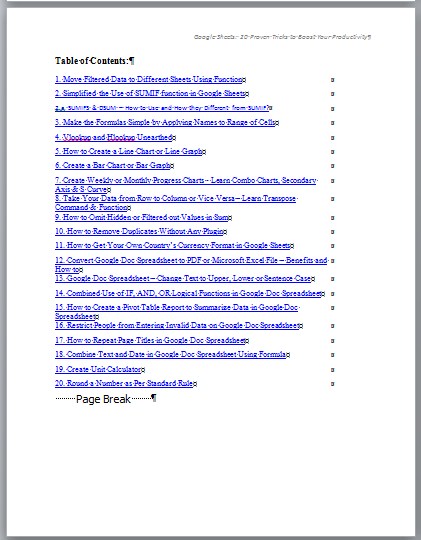 Up to third page I used Section break to start a new page. Because from fourth page onward I have inserted header text.
The fifth page is your first chapter. See the symbols. I used Shift+Enter to start new paragraphs. Only at the starting of an image and end, I used Enter key.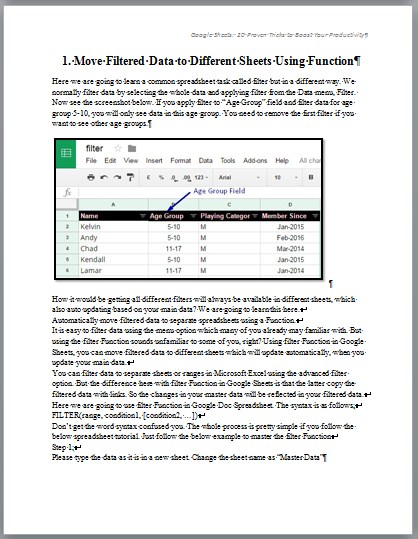 After finishing all the pages, create a page for "About the Author". Save the document.
The above is the format I used in my eBook. You can follow the same or alter. If you want a draft document to create your first Kindle eBook or Paperback, please post in comments. I can send you the copy via mail.
Now you are ready to publish your eBook and Kindle edition. For that simply sign up an account with Amazon KDP program. It's free. Below is the link
https://kdp.amazon.com/en_US/
How to Publish Your first eBook on Amazon Kindle Direct Publishing [KDP] program?
This part I'm not detailing as it's simple. Create an account with Amazon KDP. Then you need to upload your just created document. KDP will guide you to create your page cover for free and pricing options and all. No need to use your Photoshop skill. They have their own ready made cover options for you.
For Paperback you need ISBN. This is also you will get for free. Amazon will generate and provide you this number on the course of publishing your Paperback.
Conclusion:
Creating and publishing a book on Kindle is very easy. Creating your document is important. Publishing your book is just a child's play with Amazon KDP. You just create an account with them and follow their step by step instructions to publish your book. It will take few hours to go live. You can monitor the sale of your Book on Kindle KDP.
Best of luck with your Kindle eBook and Paperback. Enjoy.