You must do something different to make your spreadsheet appealing or standout from the rest. Clickable Next button in Excel means, you can move to next spreadsheet with a click of a button in a workbook contain multiple worksheets. Though you can easily move to the next worksheet by simply clicking the sheet tab or using the shortcut key "ctrl+pg dn" or "ctrl+pg up". But sometimes we need to hide the sheet tabs. So the best way to move to the next sheet is showing a Next and Previous Button in your spreadsheet. Let's see how to create a clickable next button in Microsoft Excel which is very easy.
Steps to Create a Next Button in Microsoft Excel which is Clickable.
Insert a text box from the Insert Menu.
Type "Next >" inside the text box and format it by changing the font color or filling text box with any color.
Select the text box. For this click inside the text box and then click on the edge of the box.
Then go to Insert menu and click on "Hyper Link". Instead here you can use shortcut key "ctrl+k"
Click "place in this document" and click the sheet name under cell reference " and click "OK".
See the screenshot below.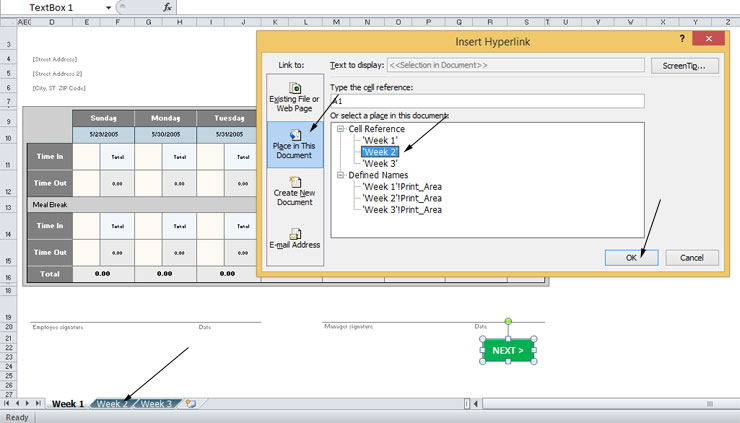 Done! The text box with text "Next >" is now a clickable next button in your spreadsheet. A click on this button will take you to the next worksheet on your workbook.
If you want, you can hide the sheet tabs from File>Options>Advanced. But if you hide the sheet tab, then a clickable previous button similarly as above is suggestible on the second work sheet on wards.