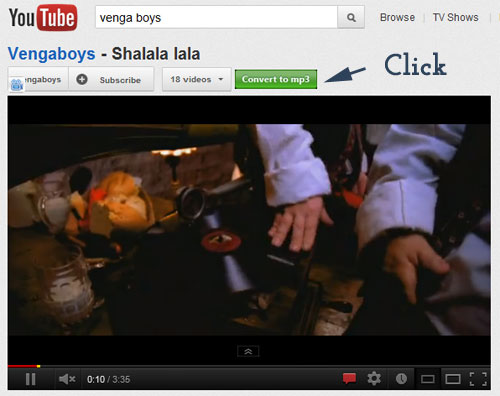 YouTube has an amazing collection of videos in the form of songs, movies, television shows etc. You need internet access to enjoy YouTube. But if you fall in love with any songs on YouTube when you are online and want to hear it again and again, you may need to download it. So that you can keep it on your mobile device to enjoy as and when you wish. Here I'm sharing you an easy tip to convert and download YouTube videos as MP3s.
Update: In selected countries you can watch YouTube videos offline. Check this list to check whether this feature is available in your country.
Here is a working tip to download YouTube videos to MP3 songs. This tip will work only on Google Chrome. It's because you need a simple Chrome extension for this purpose. Unlike other Chrome extensions you will not see the extension button on the right side of the Chrome Awesome Bar. This extension will sit right on the YouTube page. You can see a new green button labelled "Convert to MP3" on the top of the video on YouTube. The extension is named "YouTube to MP3 Plugin".
Link : Download YouTube to MP3 Plugin
Update: The above link is not working! See the alternative Here. This's one of the trustworthy solution to download YouTube Videos to MP3 or other video formats. I found this working for the past couple of years without any issue.
I think the above is most convenient, fastest and easiest way to convert YouTube videos as MP3 songs and download. I have tried with a few videos on YouTube and it perfectly worked for me.
So download this small extension for Chrome and try with any video. Hope you will share your experience in our below comments.