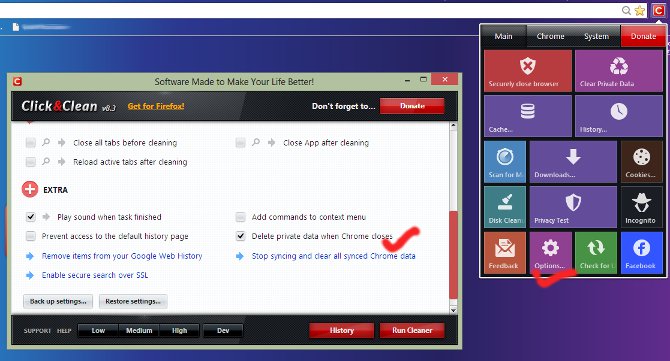 A one hours browsing history of you can't tell much about you. But one month's, a week's or a few days of your browsing history may reveal the inner of you in front of others. It may be the unmasking of you. Disastrous? Check your browsing history yourself. So don't want to put you in such a situation, right? Follow the below tutorial to learn how to automatically erase your browsing history while you close your browser.
In this post we can see how to clear your complete browsing history or browsing data automatically on Google Chrome. Erase all your browsing history on Chrome while you exit the browser. We use a plugin to auto clear Google Chrome browsing history on exit.
Download / Install Click and Clean
After installation the icon of this cool plugin appears just right to your browser's address bar. Click it and select "Options"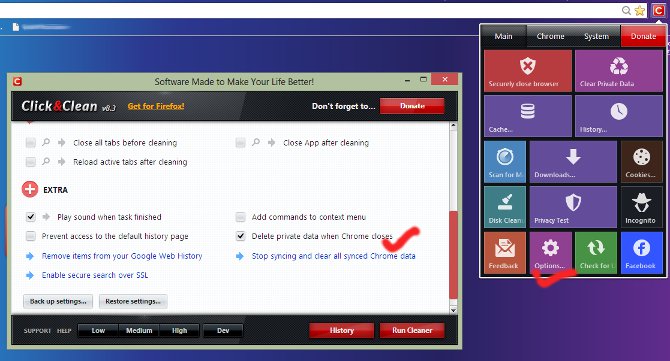 Scroll to the bottom to find an option "Delete private data when Chrome closes". Enable it. Then click the "High" button at the bottom.
That's it. It will be the settings you want to automatically delete all your browsing history on Chrome. But go through all the options in this window and understand what are the history/date that will be deleted automatically.
Other options to browse on Chrome to with keep your Privacy
Use Incognito mode (Ctrl+Shif+N) to browse on Chrome
Use Ctrl+Shift+Delete before exit to clear your browsing history.
Hope you enjoyed this post. Share the news on Facebook.