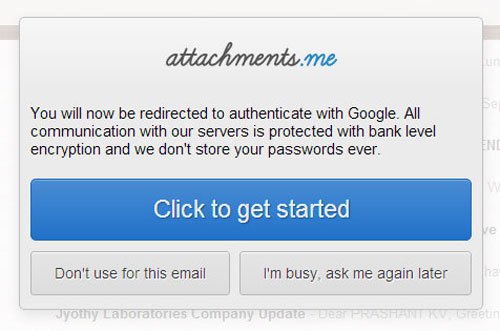 In this how to article I'm going to elaborate the steps involved in connecting your Gmail account with popular cloud storage services. By linking Google Drive, Box, Dropbox or SkyDrive with Gmail you can auto send, save or upload your Gmail email attachments directly to any of these cloud storage services. You can set rules to control which mail attachments should automatically be sent to your favorite cloud storage services. For example you can automatically direct all the file attachments from a certain sender or senders directly to Google Drive, Box, Dropbox or SkyDrive. You have full control over the auto uploading or sending to the cloud. You can decide whether to automatically save only photos, documents or all files attached in your upcoming mails to your cloud storage service. Don't think that it's very hard to achieve all these. It can be easily achieved by using a simple plugin for Chrome.
Update: This tutorial is no more valid as the plugin required for this is no more existing.
Install Attachments.me for Google Chrome. Attachments.me supports Google Drive, Box, Dropbox and SkyDrive. Earlier it was not available for SkyDrive. But by virtue of Microsoft's recent SkyDrive API restriction removal, Attachments.me has now able to extend their support to SkyDrive. Microsoft announced the same in a Windows Team Blog post earlier yesterday. So get ready to manage your email attachments in Gmail.
This article about linking and sending Gmail attachments to the cloud has two parts. The first part details how to link Gmail with Google Drive, Box, Dropbox and SkyDrive using Attachments.me Chrome Plugin. It's enough to know how to send Gmail attachments to the cloud manually. In the second part of this post, I've detailed how to set up an automatic filing rules feature in Gmail with a simple example. This will enable you to get all new email attachments from all or certain senders (you can set the criteria) directly in your cloud storage service.
Part 1 : How to Link Gmail with Some Popular Cloud Storage Services
Steps :
Install Attachments

.

me Google Chrome extension from the following link – Install Attachments

.

me.
Go to your Gmail account on a new tab and sign in.
You can see a pop up message from attachments

.

me. Click the blue button labelled "Click to get started". On a new tab you may be required to authenticate the extension by allowing access to your Gmail address.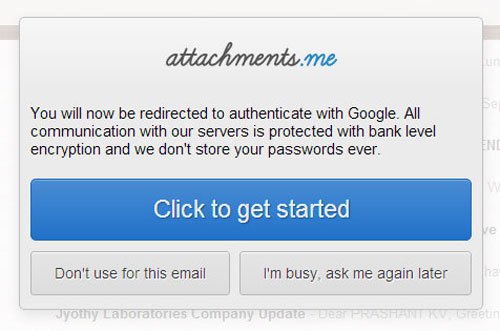 Now you will be taken back to your Gmail page where you can see a new popup message asking whether you want to link your SkyDrive account. Just cancel it because we can add SkyDrive and other Cloud services later.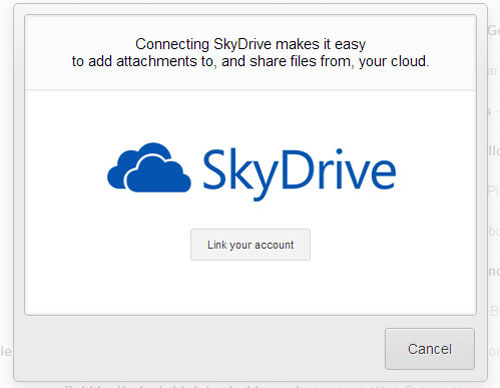 Now check for a blue button (paper clip) near to your name on top of your Gmail account page. Click on it to access a drop down menu where you can see an option to link your SkyDrive, DropBox, Box or Google Drive account. Click "Manage Account".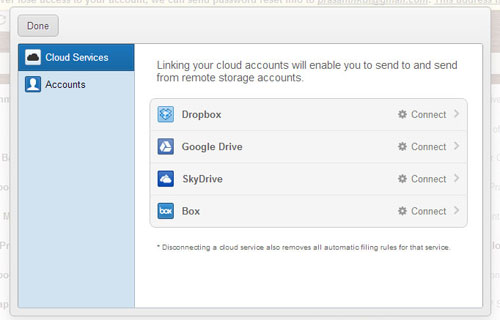 On the dialogue box that appear click "Cloud Services" button. From where you can add your selected cloud storage services. Here I'm adding SkyDrive. You may need to sign into your SkyDrive here.
Your SkyDrive account is now linked to Gmail. Now you can manually send, upload, or save selected attachments to the cloud. For that open any Gmail message with attachment. You can see a new button labelled "Send to Your Cloud" on the right side of your message.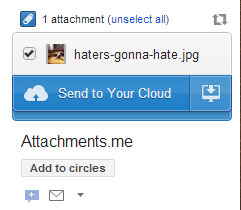 Click on it and choose SkyDrive (you can select any other service). Select the folder on the Drive where you want the files to save and then click "Send it".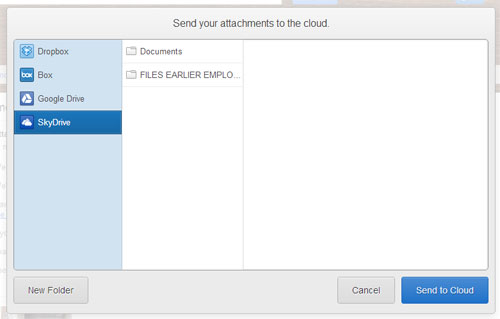 The email attachment file will be instantly uploaded to your selected cloud storage service (here SkyDrive).
Steps 2 : How to Set up an Auto Send Mail Attachment to Cloud (Automatic Filing Rules) Feature
Click the blue button (paper clip) near to your name on top of your Gmail account page and select "Automatic filing rules".
In the dialogue box that appear click "Add New Rule".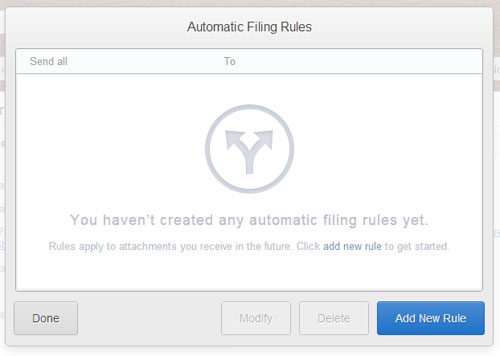 The next step is very important. Because here you need to select the file types, cloud service, and rules to enable auto send attachments to the cloud.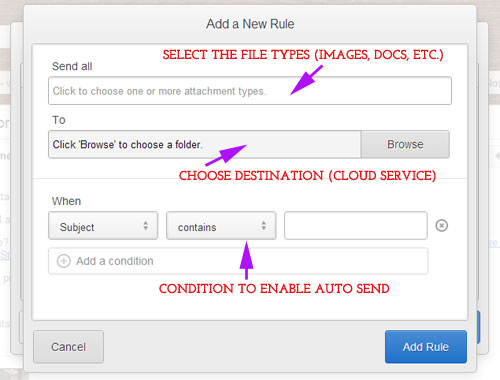 Click the field under "Send all" to choose the file type. You can choose from all types, images, documents, music, movies, code and archives. Then click the field under "To" and set the cloud service and destination folder. Finally set a condition. For example I've chosen images under "Send all", SkyDrive "Documents" folder under "To" and add condition when sender's emails contains name "

amit

". See the below screenshot for more clarity. Here onwards this will auto save, send or upload all Gmail photo attachments from

sender amit

(or email contain name

amit

 with image files as attachments) to

Documents folder

in

SkyDrive. See the settings below for more detail.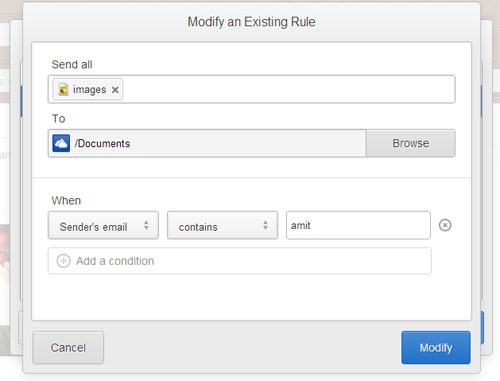 Hope you find this how to guide article useful. If you face any problem in any part of this article feel free to post it in the comments. I'm always ready to answer your queries there.