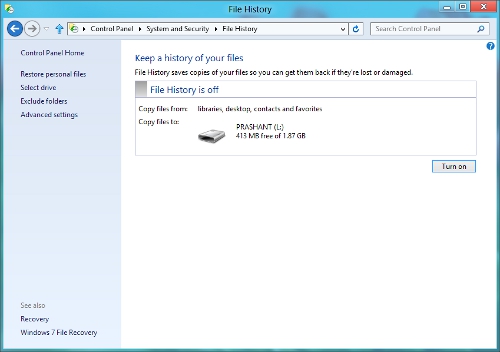 File History is a free Auto Back up applet in Windows 8. You can enable this free Windows 8 back up tool to auto back up your data or personal files stored in some dedicated folders. In Windows 7 there is a back up tool called Windows Backup and Restore. But Microsoft says that only 5% PC users utilise this feature or any similar third party back up tool to back up their data. So Microsoft replaced the old Windows Backup and Restore with File History, an automatic backup tool in Windows 8. In this tutorial we can learn how to use or enable Windows 8 File History auto back up Control Panel applet.
Tips to Enable File History and Enable Auto Back Up your Personal Data
Method 1
First insert an external storage device preferably USB Flash Drive. Then go to Control Panel and open File History control panel applet. You can use Charms Bar to find Control Panel and from Control Panel search for File History to find it. The File History Window will look like the one similar below. Click or Tap Turn on.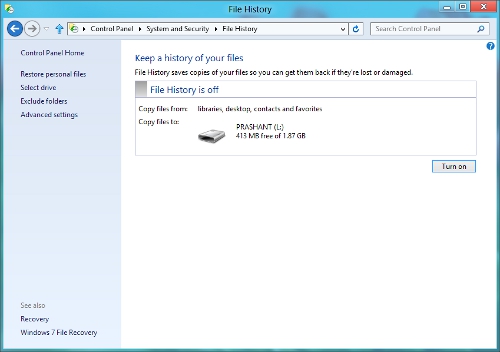 Method 2
By tapping on the AutoPlay notification that appears when you connect your external storage device.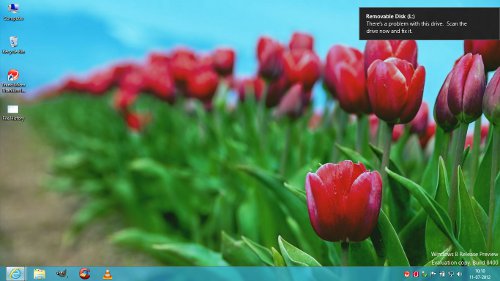 Choose Configure this drive for backup.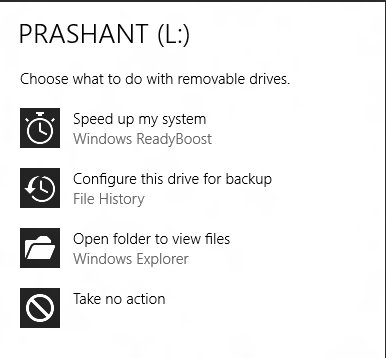 File History will only take back up of your personal files stored in Libraries, Desktop, Favorites, and Contacts folders by default that in every hour.
See what Microsoft says about File History auto back feature.
File History is a backup application that continuously protects your personal files stored in Libraries, Desktop, Favorites, and Contacts folders. It periodically (by default every hour) scans the file system for changes and copies changed files to another location. Every time any of your personal files has changed, its copy will be stored on a dedicated, external storage device selected by you. Over time, File History builds a complete history of changes made to any personal file.
Share this Windows 8 how to guide article with your friends.