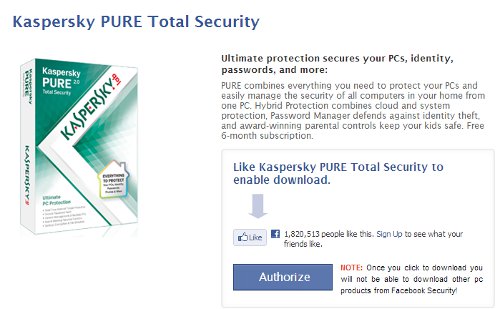 This post is an answer to your many queries regarding how to get genuine license key of top notch security products like Kaspersky, Avast, Avira, Trend Micro Titanium, Panda etc. for FREE. It's not fake. If you have a Facebook account you can get genuine license key of some of the top security products for completely free. Here I am detailing you how to get the license key of one of the best security product, Kaspsersky Pure 2.0, for completely free i.e. valid for 6 months from a promotional offer.
As already told if you have a Facebook account you are eligible for getting one genuine license key of Kaspesky Pure 2.0. Yep! Get the license key of latest Kaspersky security software for free!
Update: The offer may expire at any time!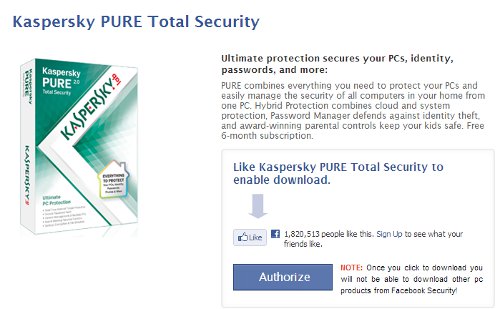 Steps Involved:
Visit the following link to go to the Facebook Security Promo page; https://www.facebook.com/security/app_360406100715618
Find Kaspersky Pure 2.0 under PC section and click on "Learn More".
Click Facebook "Like", "Authorize", and enable "Download Now".
Click "Download Now" to Get a message from Kaspersky Lab containing your free Genuine Kaspersky Pure License.
Download Kaspersky Pure 2.0 from Here or from the download link you may be received with the mail containing free Kaspersky Pure license key.
Install the software. After installation run the software and use the key to activate it.
I downloaded the app and using it. It works fine for me. See the working screenshot of Kaspersky Pure 2.0 on my PC.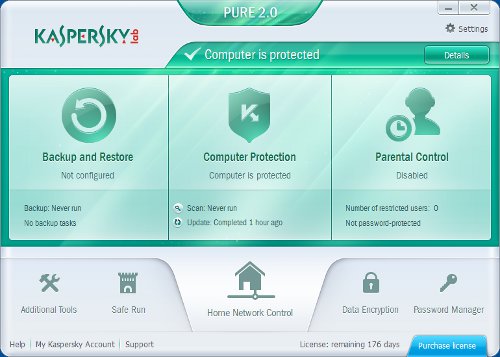 As you may already know Kaspersky Pure 2.0 is a top notch security product. It has Parental control to keep your child safe online, Password Manager to easy sign in to your favorite websites and many other features other than ensuring complete protection of your PC.
Note: If you have multiple computers running Windows, use different Facebook account on each of them to get multiple license keys of Kaspersky Pure for free.