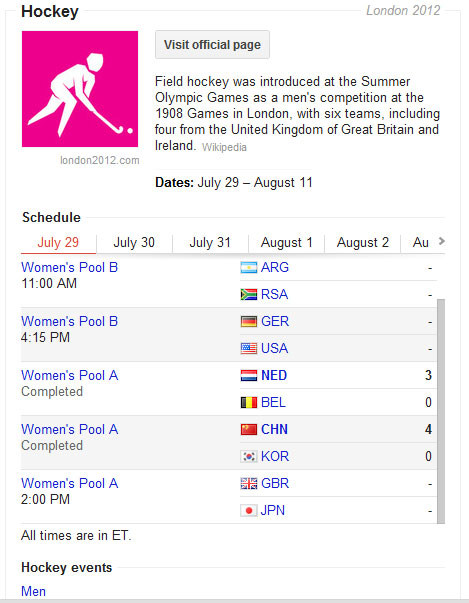 Wow! It's a pleasure to see the London Olympic 2012 schedule right on Google searches. Google is providing detailed date wise schedule of this Summer London Olympic 2012. It's the best London Olympic 2012 schedule that is easily accessible and follow. The main advantage of the London Olympic Schedule that Google provides on its search page is that you can filter it by adjusting the search query. Get only the schedule of the sports events you want by fine tuning your search query. Didn't get? For example, if you are a football fan and want to get the date wise schedule of all football matches search "London 2012 Football" that without quotes. Google will instantly provide the search results. Of course as usual you will get links to the official London Olympic web page on top. But you should focus on the right side of the screen where you can see the date wise schedule of all football matches of this Olympic 2012 event. It's beautifully provided. You can easily switch from one date to another to see all the football match event details.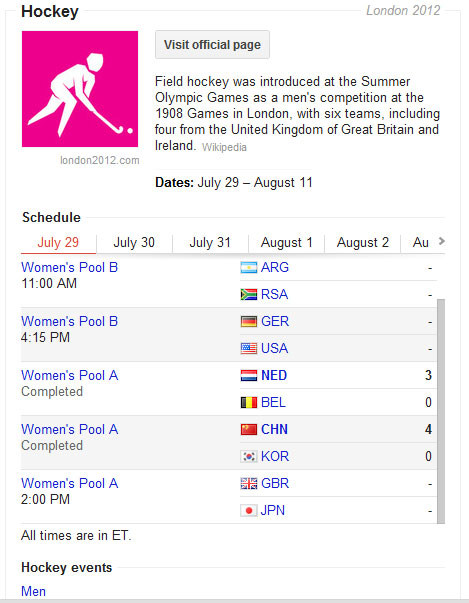 Like wise you can search for other sports events. See few search terms below.
– London 2012 Boxing
– London 2012 Hockey
– London 2012 Swimming
– London 2012 Athletics
– London 2012 Water Polo
Earlier we have shared another awesome feature that Google has introduced in searches. It's about the scientific calculator Google brought to searches. Seems Google wants to brush aside its image as a search engine, though it's really not, that only provides links to result pages.