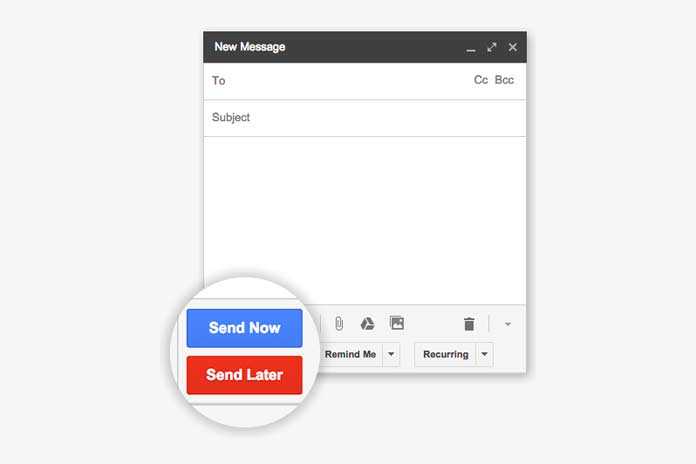 In my point of view, future dated emails has no soul. I mean the mail you compose which to be auto sent in a far future date has no fragrance if it's personal one. The mail only shows our current mood and our mood may be entirely different in a far future date when the recipient will get the mail. Then why we opt to send future dated emails?
Why Future Dated Emails are Relevant?
The reason may vary from person to person. It may be a birthday wishes to a fast friend, or emails containing important assignment to be performed in a future date. You may have your own reason for that, right? Because nobody can predict what will happen to them in the very next minute. Every minute has its own importance in our life. So whatever reason you want to schedule a mail in Gmail, continue reading.
Here we can see how to compose a future dated email in Gmail and get the read receipt once the mail opened. The read receipt is important. Because your contact may then by left their email account untouched means permanently abandoned the address. The chances are less as many of your contacts' email address may have used for setting up their Android. Now to the tips.
How to Auto Send Future Dated eMails in Gmail?
You need a plugin for your browser called Right Inbox and give permission to it to access your Gmail account. Go to this page and install the plugin for your browser. It has paid as well as free version. The free version has some restrictions like the number of mails can be scheduled is limited.
After installation, check your compose Windows in Gmail. You can see few new buttons like "Send Later", "Remind Me" and "Recurring". Click "Send Later" button to schedule your desired time and date to send the mail. It's that much easy. But before composing a scheduled mail in Gmail using the above technique you have to complete another set up.
If you want to make sure that your future dated email in Gmail got read, you have to tune your Gmail for this. We have already a detailed tutorial for this. Follow our tutorial below to learn how to get read receipt on Gmail.
How to Send Email in Gmail that has Read Receipt Option Set
Try this and let us know if you have any query. Enjoy!