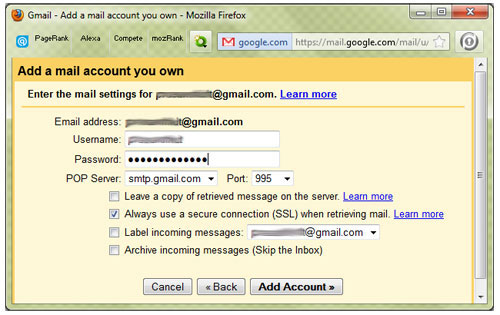 Managing multiple email accounts are not a headache if you follow some already available methods. You can use Microsoft Outlook or Mozilla Tunderbird to manage all of your email accounts on your desktop effectively. If you are a Gmail user, do you know you can combine all of your email addresses including Hotmail, Yahoo Mail or another Gmail account on Gmail Using Gmail Mail Fetcher? You can do it by using a Gmail feature called Mail Fetcher. You can add up to five of your other Email accounts under one umbrella in Gmail.
Many people keep multiple email accounts. In my case I've account on Gmail, Yahoo Mail, and Hotmail. The reason for creating multiple email accounts vary by person. I've started with Yahoo Mail then impressed with Gmail. As a webmaster to access Bing service and for accessing SkyDrive cloud storage I opened a Hotmail account also.
Some people create one account for business needs and another for personal communication. Whatever the reason we should effectively manage our email accounts to save time. So here I'm explaining the steps involved in combining multiple email accounts in Gmail by using Gmail Mail Fetcher feature.
Steps to Add Multiple Email Accounts on Gmail Using Gmail Mail Fetcher
First note that your email accounts must support POP (Post Office Protocol). Almost all major Web mail providers including Hotmail, Yahoo Mail (POP access is limited to Yahoo! Mail Plus subscribers), Gmail etc. support POP.
I am explaining below how to set up Mail Fetcher Easily with two examples. I'm adding a Windows Live ID and another Gmail ID to my primary Gmail ID here for explanation purpose (see screenshots).
Now to the set up process involved in Gmail Mail Fetcher.
Sign in to your Gmail account (primary) and go to Gmail "Settings". It's under the gear icon.
From the "Accounts and Imports" tab click on "Add a POP3 mail account your own".
On the filed that appear, that on a new Window, type your full email address and click "Next Step".
Check the settings (it will be OK by default so you can leave it without altering) and enter your password.
Click "Add Account" and Finish (please refer 3rd screenshot).
Now see the below two screenshots that I've captured when I was adding my Windows Live ID and another Gmail ID with my Primary Gamil account.
a) Mail Fetcher Windows Live ID Set up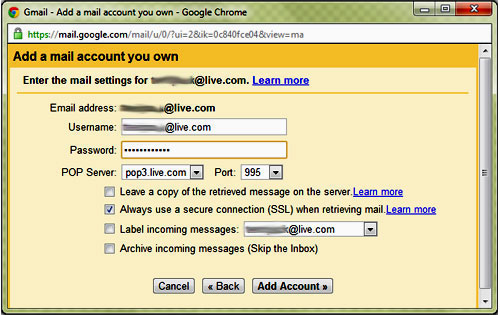 b) Mail Fetcher Gmail ID Set up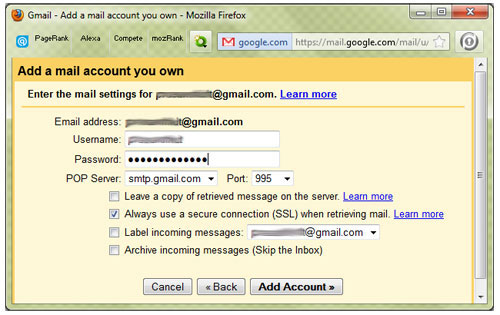 Important Note : When trying to add your another Gmail account you may probably see an Error message like the following.
Server denied POP3 access for the given username and password.
I have faced the same issue and I solved it. Follow the below tips if you face similar issue.
My primary email ID for example here is abc@gmail.com. I'm combining my another Gmail ID for example here xyz@gmail.com with my primary ID.
Sign in to xyz@gmail.com and under Settings, under tab "Forwarding and POP/IMAP" make a tick mark against "Enable POP for mail that arrives from now on" and Save Changes.
Then go to abc@gmail.com and try to add again the secondary ID xyz@gmail.com. If it does not work change your Gmail account password of xyz@gmail.com. Try after that. It will surely work as this solved my problem. Hope yours too.
Next Screen (final setup in Gmail Mail Fetcher) in both above case (point a and b).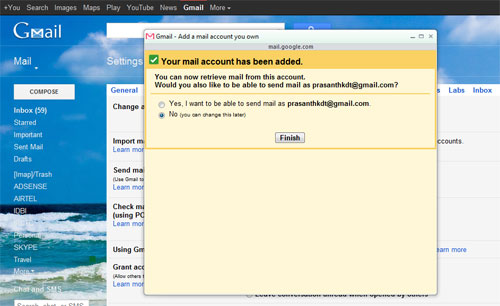 That's all. Enjoy emails from your own other email accounts in Gmail.