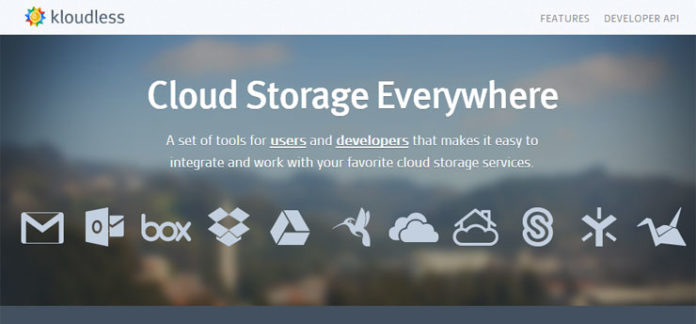 If you opt for third party plugins, the inbuilt Gmail lab features, and other settings perfectly on Gmail, your Gmail experience won't be tedious. Here in this post, we can learn how to handle Gmail attachments in an effective manner. We can move Gmail attachments to any of our cloud storage services automatically. So you can save your precious limited storage capacity in Gmail also better handle the attachments. It's time saving also as no need to download the attachments again. To automatically move new email attachments, just follow the few steps below.
Open Google Chrome.
Open your Google Drive account and create a folder named "Gmail Attachments". You can here use Box, Dropbox or SkyDrive also.
On a new tab, go to Kloudless.com. This service helps us to move Gmail attachments to the cloud. No need to worry about the confidentiality of your attachment as Kloudless offers bank level encryption security to the attachments.
Click the button "Signup with Google"
You will see the "Install" button. If not, refresh your browser.
Click it and install the Chrome plugin from the Chrome Web store.
Now open your Gmail account and see the kloudless button there.

Click on the link will take you to the settings page of kloudless. There on one side, you can see your Gmail account selected. Now you need to select your cloud storage account. Here I'm using Google Drive. So I can get all the new Gmail attachments in Google Drive and improve the Gmail storage space. The settings screen looks like as below.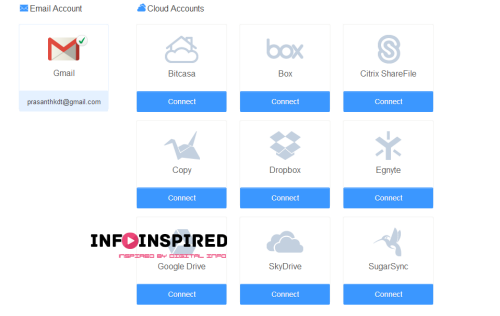 Click the connect button below the Google Drive. Now click the "Automation" tab and create rules there.
Rule 1, Move
Set it as below.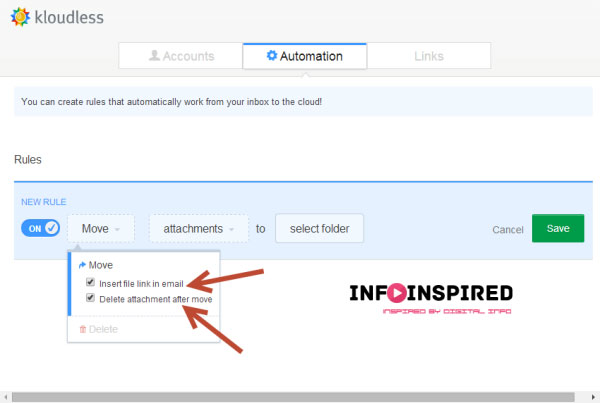 Rule 2, Attachments
Here you can decide whether to move attachments from all senders to Google Drive or from any specific sender. Keep the fields as it's or empty to move all attachments in Gmail to Google Drive. There are lots of options available as follows that you can ignore.
Move attachments from specific senders.

Move any specific

file types from Gmail to Google Drive like Images, PDFs, Doc etc.

File names

contain any specific word.
Email Subject with specific words.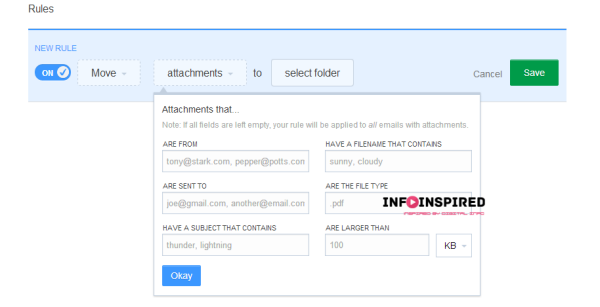 Rule 3, Select Folder
Select the folder that we already created named "Gmail Attachments" and "Save" the rules.
That's all. Now test the feature.
Just end an E-mail with any attachment to your Gmail account. Use your any other E-mail account for this. Now check your Google Drive "Gmail Attachments" folder and see the attachment there. Check your Gmail. You can your Email there without any attachment. In my test, the attachment was there in Gmail for a few minutes and then disappears!
Conclusion:
Transfer new Gmail attachments to the cloud will be very useful for professionals who are getting lots of E-mails with attachments in the form of inquiries, offers, product photos etc. Also consider creating multiple folders for different contacts to organize the file moving. If you create multiple folders in your cloud storage for storing gmail attachments, you have to create new rules for each attachment.