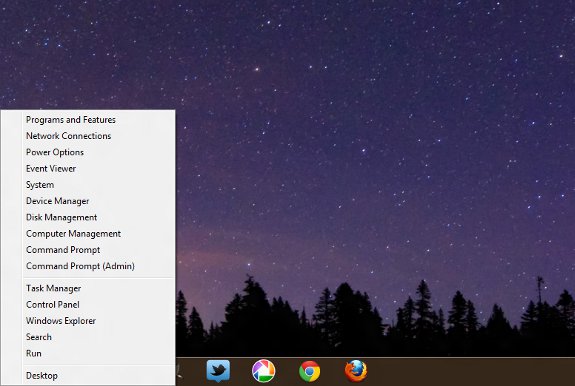 This post is about a free Windows 8 Start Menu Editor tool. Windows 8 is a powerful operating system with lots of new features (it is my first post here so I will discuss more Windows 8 helpful tips, how to guides etc. in coming posts). In Windows 8, assume you have started using Windows 8 Consumer Preview, you may be noticed that there is no Start menu button in the desktop.
It is because Microsoft revolutionized the design of Windows in this upcoming operating system. On Windows 8 you are welcomed with an opening screen with live tiles of apps instead of traditional Desktop. The reason, Microsoft wanted to produce an OS that can smoothly run on touchable devices like tablets. But there is a Start Menu in Windows 8 though it is not in the traditional way. You can access Windows 8 Start Menu by pressing Win+X shortcut key.
You will not find or access your installed apps on this Context Menu as it can directly accessible from the start screen itself (tiles). From the Win+X menu you can quickly access many functionality of Windows 8 such as Windows Explorer, Device Manager, Disk Management, Control Panel etc.
Update: Windows changed a lot after publishing this article about Free Windows 8 Start Menu Editor Tool. But still it's relevant as the editor tool we introduced in this post is still available and extended to Windows 10.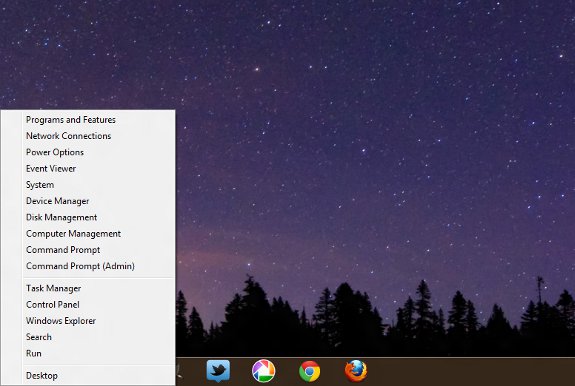 If you wish, you can edit the above Win+X Start Menu in Windows 8 to add or remove shortcuts by modifying the registry. If you are not able to edit registry values by yourself, just use a simple but powerful free Win+X Menu Editor. Win+X menu editor enables you to edit the Start Context Menu in Windows 8, which is non customizable by default, hassle free.
Win+X Menu Editor enables you to add new items/shortcuts, remove items, re-order or change the display menu items in Windows 8 Start Menu.
This free Windows 8 customization tool is available in to variants – for x86 bit and x64 Windows 8. Use the correct one in order to work it bug free on your PC.
Link : Win+X Menu Editor (free)
Enjoyed this Windows 8 helpful tips. Share your views in the comments. Hope also your valuable social sharing.