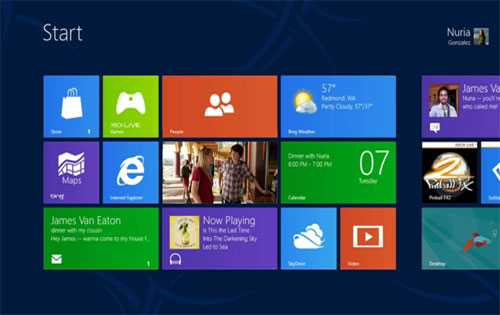 Microsoft today announced the names of the three variants of Windows 8. Windows 8 is the official name of Microsoft's upcoming operating system. The beta version of this OS is now available for testing called Windows 8 Consumer Preview. Microsoft today announced that there would be only three flavors of Windows 8 operating system when its final version is released. The names of these three editions are Windows 8, Windows 8 Pro and Windows RT. If you plan to upgrade or buy an installed Windows 8 PC or tablet you should know the difference of these Windows 8 editions. This article elaborate Windows 8, Windows 8 Pro and Windows RT features or difference.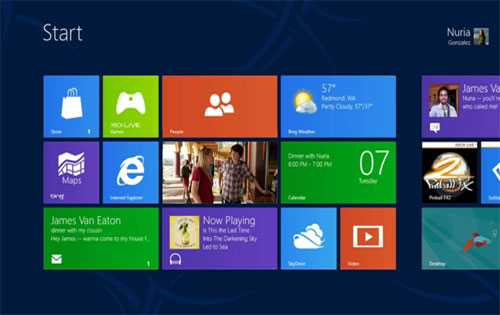 Windows 8, Windows 8 Pro and Windows RT Features
I know many of you may ask what is Windows RT, what is the difference between Windows 8 and Windows RT. It's quite natural.
Windows 8 and Windows 8 Pro are for PCs or tablets powered by x86 processors (both 32 and 64 bit). You can upgrade from your Windows 7 (see the screenshot below for details) with these editions.
Windows RT also known as Windows on ARM or WOA is built especially for PCs and tablets powered by ARM processors. It only comes pre-installed with the supported devices.
Windows 8 Pro comes with all the features of Windows 8, plus additional features meant for pro users such as encryption, virtualization, PC management and domain connectivity are there. Windows RT is the only version offers latest pre-installed version of office applications – Word, Excel, PowerPoint and OneNote.
To get an initial idea of the features of these three editions of Windows 8 see the below screenshot.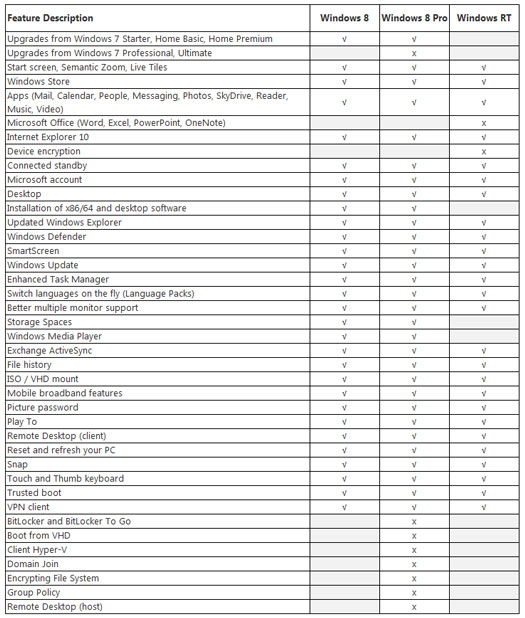 Microsoft has not reveled the final date of the release of Windows 8 (final). I think Microsoft is just 5-6 months away from the official release of Windows 8 final. I know some of you are eagerly waiting to lay your hands on the Windows 8 tablet. If it is the case can you please share which edition of Windows 8 you like most. I think normal users will go with Windows 8 or Windows RT. Like to hear your views on this topic. Hopes you enjoy this article.
Source : Windowsteamblog