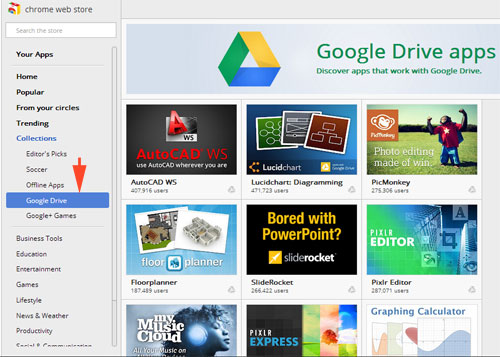 It's not a must to install apps on your Google Drive cloud storage if you simply want to store your files in the cloud and access it. Other than storing you can create and edit docs & spreadsheets with-in Google Drive with the help of the built-in Google Docs. But those who wants to explore the possibilities offered by Google Drive there are some amazing third party apps available. You can send Fax messages, digitally sign your documents, edit photos etc. that's all from with-in Google Drive with the help of some third party apps. Then where to find apps for Google Drive?
You can find apps for Google Drive on Chrome Web Store. Chrome Web Store is a well designed online market which hosts apps for Chrome Browser. Chrome Web Store apps only work with Google Chrome. The exception is Google Drive apps. You can find all types of Google Drive apps in the Chrome Web Store. Once installed from Chrome Web Store, it works on any browser from with-in Google Drive.
As mentioned above there are a good number of apps available for Google Drive. You can find the collection of Google Drive apps at Chrome Web Store. Click category "Google Drive" under "Collections". Install the apps and enjoy music, edit photos, send Fax etc. in Google Drive.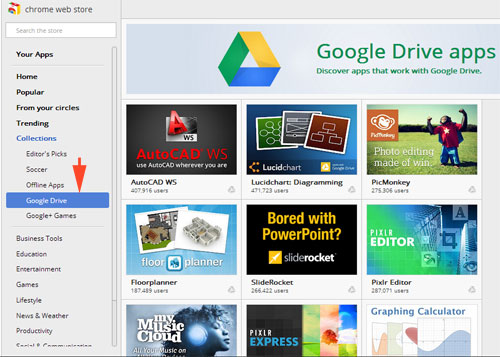 Find all Google Drive apps in one place. Select the apps you want. Also don't forget to check back to this category on Google Drive to ensure you are not missing any great apps.