Android devices are very much prone to malware infection. There are lots of android anti-malware removal tools in the market for free download. Some of them are effective also. But if you are too serious about the android malware threat, you should install a reliable solution. Of course there is a reputed name in the anti-malware field and it's none other than Malwarebytes. They have released their andorid anti-malware solution quite recently. It's time tested and proven.
Uncertain about a deadly malware infection on your android device? There are lots of signs you can seen. Dropped phone calls, more battery consumption, slowing down like an ageing device, more data usage are some of them. An effective anti-malware solution is required for your android device to cure the problem. Here comes the world's topnotch anti-malware technology for Android. Malwarebytes is the leading anti-malware technology providers for PCs. Use their top anti-malware app on your android now. Malwarebytes android anti-malware solution is free on Google Play.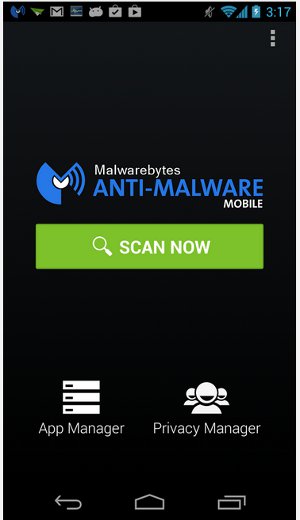 Main Features of Malwarebytes Anti-Malware Android App
Malwarebytes android anti-malware solution detects and cure not only malware, but also trojans and spyware.
This app effectively scans your installed apps for malicious code and also find location tracking apps.
Malwarebytes android app makes a complete scan of your android device for vulnerabilities. It is a free and topnotch anti-malware solution that automatically runs and find the vulnerabilities. It helps you to close the security hole effectively.
Another feature of Malwarebytes anti-malware android app is that it allows you to schedule automatic scan.
Above are the main features of Malwarebytes android anti-malware solution. If you want you can download it for free from the below link. Share the news!
Download : Malwarebytes Anti-Malware (Google Play)