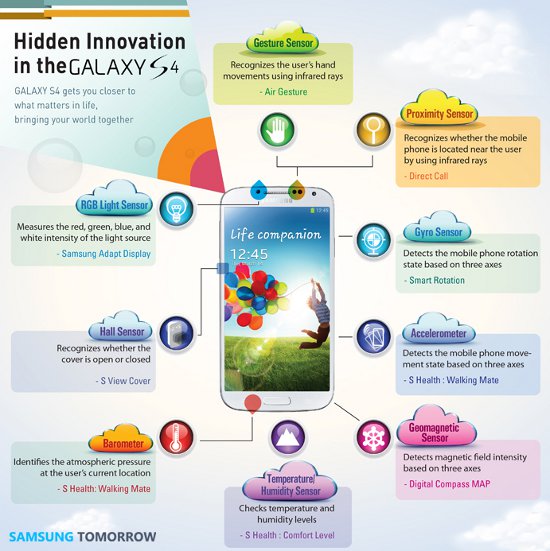 Much have been talked about the Galaxy S4, the new flagship phone from Samsung. It's one of the best smartphone in the world at present. The only disagreeing point among smartphone lovers about Galaxy S4's supremacy is in design front. Majority of the people like HTC One's design, another feature packed smartphone. Whatever the competition there are certain things that you must know about Galaxy S4. There are amazing number of features that you may have already gone through on internet about Galaxy S4. Here are some cool hidden stuff in Galaxy S4. Yep! Read about some unknown features or facts about Galaxy S4 below.
Samsung Galaxy S4 Unfamiliar / Unknown Features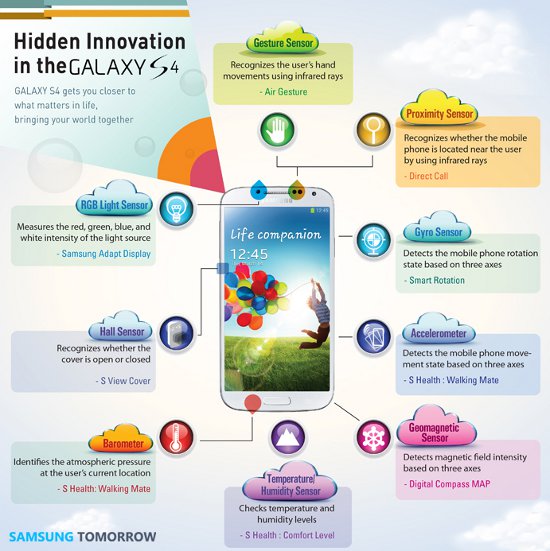 Gesture Sensor – Using infrared rays Galaxy S4 recognizes users' hand movements. So you can do certain action on Galaxy S4 without touching on the screen. This feature is known as Air Gesture.
Proximity Sensor – The Direct Call feature in Galaxy S4 is possible with the Proximity Sensor in it. Raise the phone to your ear to make a call. It uses infrared rays.
Gyro Sensor – It detects the smart phone rotation state based on three axes called Smart Rotation. It adjusts the screen based on viewers angle of sight.
Accelerometer – This detects your phone movement and supports Galaxy S4's S Health feature.
Geomagnetic Sensor – This works within the Digital Compass MAP, the real digital compass on your android handset.
Temperature / Humidity Sensor – Just like Accelerometer it also supports S Health.
Barometer – Identifies the atmospheric pressure at users current location. An S Health support feature.
Hall Sensor – It works with S View Cover accessory of Galaxy S4. View the time and date, missed calls, new emails and messages or current song while the cover in closed position. Hall Sensor recognizes whether the cover is opened or closed.
RGB Light Sensor – It supports Samsung Adapt Display which measures the red, green, blue and white intensity of the light source. What Adapt Display is doing is that, it adjusts brightness, saturation and contrast depending on your surroundings.
Source : Samsung Global