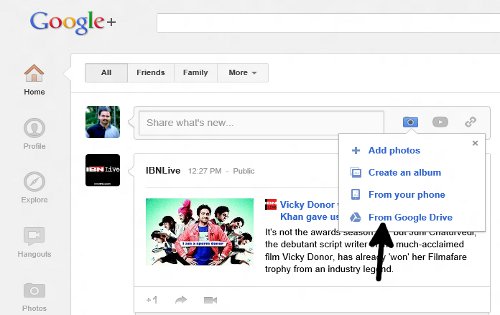 Hi guys! Google has integrated Google Drive in Google+. Did you read our earlier post regarding the launch of Google Drive. If not first go through it by following the link here. Google has launched Google Drive cloud storage service with supporting apps for Windows, Mac and Android. It is assumed that Google will surely provide tight integration with its different apps on the web. Google has already integrated Google Doc on Google Drive. Google Doc is now in Google Drive. The integration is coming to Google's social networking service Google+. Now you can share photos stored on your Google Drive cloud storage from right with in Google+. It is considered as a good move from Google as many users use cloud storage services to upload their photos and share. Below is the Tips to Share your Google Drive Photos on Google+
Tips to share your Google Drive photos on Google+
Sharing Google Drive stored photos on Google+ is just child's play. Do you know why? It is because your Google Drive uploaded photos are there right within the Google+ interface to ready to share anytime with your circles. Just see the screenshot below.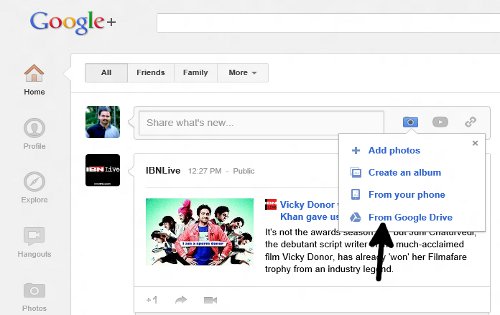 Yep, to share Google Drive photos on Google+ simply click the Camera button and choose "From Google Drive". Want to send some vacation photos with your friends. Uploaded your vacation photos to Google Drive first and share selected photos with your friend circle on Google+.
Now it is a difficult situation for many to choose a cloud storage service. Microsoft has also entered in the foray with its SkyDrive cloud storage app with some improvements. They are also offering 25 GB free cloud storage for their existing users. A move that can't just ignore by anyone. And there are the leader in cloud storage, Dropbox.
Facebook and Google+ is also engaged in a completion on the social networking front. Both are releasing similar features to compete with each other. So may be later you can see a SkyDrive-Facebook integration. So Facebook users can upload their photos from SkyDrive to Facebook.
Share this new Google+ tips with your friends and also try it yourself. Enjoy.