How to search your Gmail mail right on Google Search? It's possible if you join Gmail Field Trial. You can search your mails right on Google.com. Similarly if you opt for this new feature, your search on Gmail will also include related information from your Google Drive, Google Calendar etc. Yep! A search across Google is possible with this new feature.
To search your Gmail mail right on Google.com, go to the following link. You need to select "Join the Field Trial" in order to enjoy this feature.
Go to Gmail Field Trial Here.
You can also see there the search terms you can use after you join this hidden Google feature.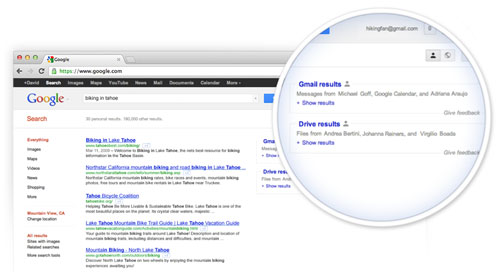 After getting the confirmation mail from Google's end you can try this awesome new Gmail feature. See what Bram Moolenaar, Software Engineer at Google says about Gmail Field Trial.
We've gotten very positive feedback from those of you testing it out — such as this note: "The Gmail results feature is awesome! The fact that it's all integrated into one screen is huge." Many testers have requested being able to find Drive files as well — as one of you put it, "It would be awesome if I could search my google drive from google search as well 🙂".
Share the news.
Via : Gmail Blog