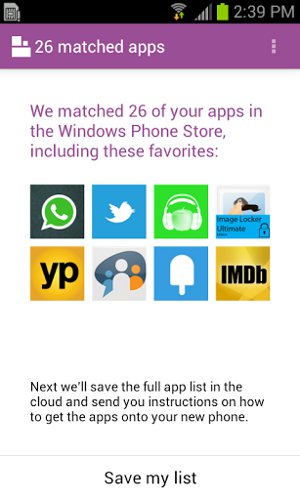 Microsoft today released an official Android app called Switch to Windows Phone. The purpose of this app is plain. To help you scan your android phone for apps to find equivalent Windows Phone counterparts. How it is going to help you? It is useful for two types of people. The first one is who posses two smartphones – One Windows Phone and One Android Phone. The other one is for people who wants to migrate from Android Phone to Windows Phone. Switch to Windows Phone is free in Google Play for download.
Get the app – Switch to Windows Phone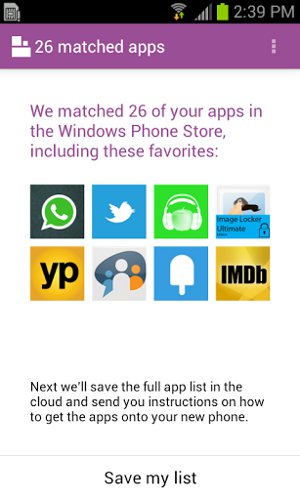 Google Play market is huge compared to Windows Phone app store. So possibly lots of your favorite android apps may not be found on Windows Phone Market Place. But there are alternative android apps in the Windows Phone Marketplace matching the official android counterparts. But it's not easy to find. We can hope the new Official Microsoft app for android for making the switching will sort out the issue.
Install this app from the above Google Play download link on your android phone and run to scan the installed apps. It possibly finds Windows Phone equivalents.  This app helps you to save the personalized match results. Later if you wish a switch from Android to Windows Phone, you can retrieve the apps on your Windows Phone. This app uses cloud technology to save your list.
It is not a must have android app. But it may be useful for some people for switching from Android to Windows Phone. If the Windows Phone Market Place is filled with enough apps, then this app will be a must for android users to make a switch. Do you see any reason for switching from Android platform to Windows Phone? Like to hear your views in comments.