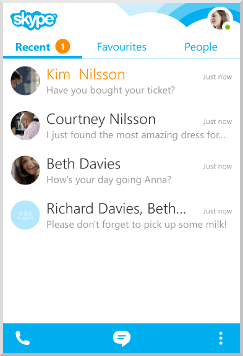 The very popular free instant messaging and video calling app Skype got a new update. It got a design reshuffle that makes the new Skype for Android cool and refreshing. If you are lucky to have an Android 4.0 or higher device, you can get the new redesigned Skype. You can download the new Skype for Android 4.0 from the Google play or update your existing Skype on your Phone. Other than the design changes I feel the new Skype is faster than earlier. Let us see how to use the new updated Skype free instant messaging and video calling app.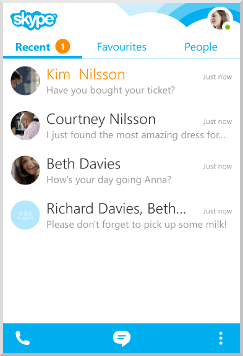 A Quick Guide to do Things on the New Skype for Android
The home screen of the new version of Skype on Android is set to Recent. It shows all of your recent conversations. The conversations with new messages, you can see in highlighted.
Swiping the screen to left will take you to the second tab on the home screen, i.e. Favorites. It contains all of your favorite groups and contacts. From the same screen you can add people to favorites.
Again you can swipe the screen to left to access the third and final tab on the new Skype for Android 4.0. It will take you to the People tab where contains all of your contacts.
On the bottom of the screen on all the above three tabs you can see three icons. It is for making calls to landline or mobile numbers,  messaging and finally the settings icon. So making landline or mobile call is so simple on Skype but you need Skype credit for this. For free Skype video or voice calls simply tap on any contact from the any three tabs mentioned above. It will show you three icons. First for video calls, second one for voice calls and finally the settings.
How to Go Invisible on the new Skype for Android 4.0
Tap on your profile picture button on the top right corner of the screen. There you can see the option to change your profile picture, go invisible, mood settings, contact details etc. You can sign out from Skype from the same profile screen. Tap on the Settings button to see the sign out option.
Hope you got the new Skype update. How you feel?