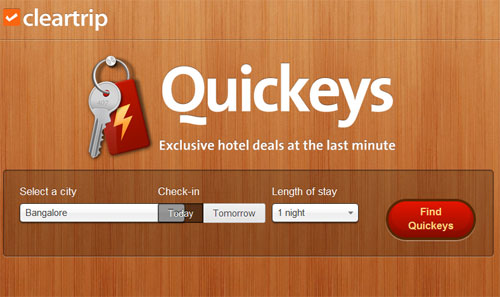 Are you stationed in any of the major Indian cities and have in trouble finding a suitable room for you to stay last minute? Try Quickeys. It's a new service from popular online travel site in India Cleartrip that enables travelers to find and book hotels available for immediate check-in in their area.
This service is only for late hotel booking that means for the same day or for the next day. Cleartrip says that their search results contains handpicked list of hotels and offers flat 30% off on same day and next day check-ins.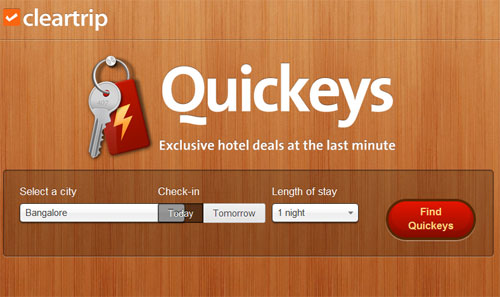 You can use this service on your computer or on your mobile. Quickeys on mobile is very useful as it's the convenient source for a traveler. On Cleartrip Mobile just tap the "Quickeys" option to see a list of hugely discounted hotels available for immediate check-in. Or you can search for a hotel near you using your current location.
TripAdvisor traveler ratings and high definition HD photos, that even supports iOS retina display, are the main attractions of Quickeys. Find a suitable room? Make a phone call to book the same immediately.
Try Quickeys on the web | Download Cleartrip Mobile for using Quickeys feature.