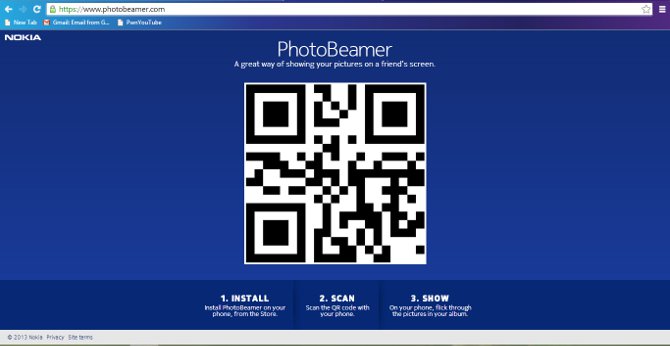 PhotoBeamer is one of the revolutionary Windows Phone 8 app that got a wonderful update recently. First of all let me explain the purpose of this app. It's for Nokia Lumia users to display photos on their phone on to a bigger screen. Bigger screen means any screen that varies from Tablet, Laptop, Desktop and Smart TV with support to internet connection. Also the device must have support to browser to enable you to open websites on it. You just need to scan the QR code on your bigger screen with your Lumia. The photos on your Lumia will then appear instantly on the bigger screen now in HD. The photos adjust to the screen resolution.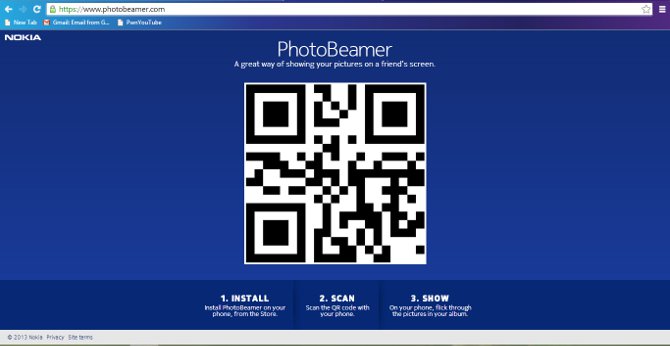 PhotoBeamer is just like a projector but only to show images on your Nokia Lumia phone on to a bigger screen.
How PhotoBeamer works or how to use PhotoBeamer on Lumia?
Install PhotoBeamer on your Lumia Windows Phone 8 device.
Run the app and select any photo.
Go the URL www.photobeamer.com on the device where you want to show the photos. For example on your Smart TV.
You will find a QR code there. Scan it wit your Lumia using the PhotoBeamer app.
Immediately the active photo on your Nokia Lumia will appear on the screen.
Flick through the pictures on your Nokia Lumia to immediately appear it on the screen. A wonderful experience with your Lumia!
Conclusion:
PhotoBeamer app attracts users with its simplicity and performance. With this app you can wirelessly share your photos quickly. A photo projector on your phone, right?
I searched for PhotoBeamer similar app for my Android but all it was in vain. This is one of the app I wish to get on my Android Phone.